Textile bodies hail special package for apparel sector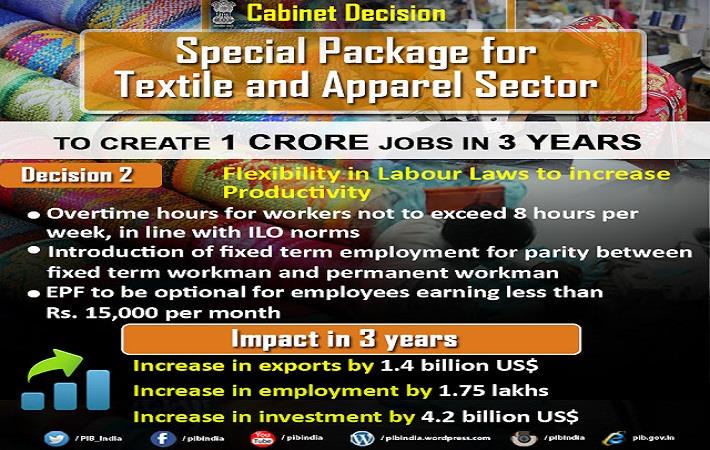 Textile trade bodies have hailed the special package for textile and apparel sector approved by the Union Cabinet under the Chairmanship of Prime Minister Narendra Modi. The package is a strategic decision that would strengthen and empower the Indian textile and apparel sector by improving its cost competitiveness in the global market.

The measures also assume significance due to its potential for social transformation through women empowerment; since 70 per cent of the workforce in the garment industry are women, majority of the new jobs created are likely to go to women.

An elated Ashok G Rajani, Chairman, Apparel Export Promotional Council (AEPC) said, "The apparel industry thanks the Prime Minister and the Textile Minister, Santosh Gangwar for a very comprehensive package that has not only addressed the industry's needs, but also the employment generation needs of the country, that this industry can address. The cost differential that India suffers vis-à-vis our competing countries has been duly addressed. The refund of employers contribution of EPF, Additional incentives under ATUFS , enhanced duty drawback coverage with drawback for domestic duty paid inputs even when fabrics are imported under Advance Authorization Scheme, etc, are support that will help the industry gain cost competitiveness".

He further added that, "the labor reforms will not only help the industry, but also the workmen as it encourages new employment, ensures better take home salaries for lower income workers and puts contractual workers at par with permanent workman in terms of working hours, wages, allowed and other statutory dues. The industry is gearing up the $20 billion target set for this year. With a decline in exports for the last five months in a row, major global markets still recording negative growth and the Brexit uncertainty looming large, the package is timely and gives the industry hope for revival."

The Southern India Mills' Association (SIMA) has also welcomed the package, saying that the slew of measures announced for the garmenting sector would greatly help the garment exports which attract 16 to 20 per cent duty in all the major international markets.

In a press release, SIMA Chairman M.Senthilkumar thanked the Prime Minister and the Union Cabinet for announcing such an attractive package in a right time when the entire textile industry has been passing through a long drawn recession due to delayed FTAs and market access limitations.

"The package would also help the entire value chain right from fibre to finished fabric due to increased demand in the long run," he said.