USTER QUANTUM 2 yarn clearer touches a new high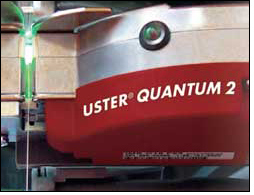 Further evidence of the fast-moving global trend towards total control of yarn quality comes with the news that Uster Technologies has now delivered 1.5 million of its USTER QUANTUM yarn clearers.

Uster Technologies cites the latest milestone as clear proof that the textile yarn sector increasingly demands innovative online quality control, while the production machinery is running. It also under-lines USTER's world leadership in yarn clearers, with the USTER QUANTUM 2 now the pre-ferred choice in all the major markets and the most successful clearer ever produced.

The key to the success of the USTER QUANTUM is constant technological development, in response to customers' needs – making these clearers an indispensable tool in spinning plants all over the world.

The ability to continuously monitor quality parameters on the same basis as the laboratory has changed the quality management model in several spinning mills worldwide. The extended quality assurance possibilities make the USTER QUANTUM 2, an indispensable tool in spinning plants all over the world. Some of the product highlights include:

• Combination of powerful capacitive basic clearing with the best foreign fiber clearing.
• Advanced clearing limit optimization using CAY (Computer Aided Yarn clearing).
• Detection of foreign fibers of low intensity.
• Vegetable Filter to filter out vegetable matter that disappear after bleaching.
• Total Testing – Quality monitoring of the complete production on the same basis as the USTER TESTER and USTER CLASSIMAT QUANTUM.