Retailers to promote growth through trade agreements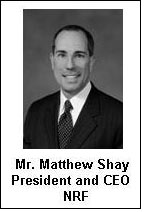 Hundreds of business people representing retailers large and small from across the country will come to Washington this week to advance a public policy agenda intended to boost the nation's economy and job creation as the National Retail Federation holds its annual Washington Leadership Conference. The record number of attendees this year reflects NRF's renewed focus on significantly growing its advocacy footprint.

"The retail industry represents one in every four American jobs and serves as a bellwether on the health of the economy," NRF President and CEO Matthew Shay said. "As policymakers craft legislation that impacts Main Street business and the broader economy, our voice is essential. Retailers will meet face to face with lawmakers to urge them to stay the course on swipe fee reform, address uncertainty by tackling tax reform, and promote growth through trade agreements."

Over the course of the three-day conference, NRF members ranging from Main Street store owners to CEOs of national retail chains will hold almost 100 lobbying meetings with members of the House and Senate. They will also hear from White House Chief of Staff William Daley, Senate Majority Whip Richard Durbin, D-Ill., and National Republican Senatorial Committee Chairman Senator John Cornyn, R-Texas. Retailers will push for pro-growth policies that will boost the economy and consumer spending and help boost employment. Topics include:

• Reducing Debit Card Swipe Fees for Consumers and Retailers – The Senate has rejected an attempt to delay and ultimately reverse a reduction in debit card swipe fees that will save retailers and their customers more than $1 billion a month, but NRF will work to block any further attempts that might be made before reform takes effect on July 21.
• Reforming and Simplifying the Corporate Tax Code – NRF supports proposals to eliminate many special deductions and credits in return for lower rates. Retail would see a lower effective tax rate under such reform, and most of that reduction would be passed along to consumers through lower prices. The resulting increase in sales volume would create the need for more employees in stores and distribution centers, and require more investment and job creation by wholesale suppliers. NRF opposes creation of a Value Added Tax or other consumption tax because of the negative impact on consumer spending. A 2010 study conducted for NRF found adding a VAT to the federal tax system would cause the loss of 850,000 jobs in the first year, reduce gross domestic product for three years, and bring a permanent drop in retail spending totaling $2.5 trillion in the first 10 years.
• Repealing the Employer Health Care Mandate – NRF is working to eliminate the employer mandate provision of 2010's health care reform law and will ask lawmakers to cosponsor legislation to do so, the American Job Protection Act. NRF believes the requirement for most companies to provide health coverage to full-time workers will force many retailers to reduce the size of their workforces because of the increased payroll costs. Rather than mandates, NRF supports measures that make health coverage more accessible by making it more affordable.