Target CEO pleased with Q2 financial results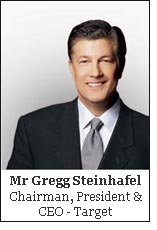 Target Corporation reported net earnings of $704 million for the quarter ended July 30, 2011, compared with $679 million in the quarter ended July 31, 2010. Earnings per share in the second quarter increased 11.5 percent to $1.03 from $0.92 in the same period a year ago. All earnings per share figures refer to diluted earnings per share.

"We're very pleased with our second quarter financial results, which benefited from an acceleration in the pace of our comparable-store sales growth," said Gregg Steinhafel, chairman, president, and chief executive officer of Target Corporation. "We continue to focus on strong execution of our strategy, preparing Target to perform well in a variety of economic environments."


Earnings Guidance

The company currently expects third quarter diluted EPS of 70 to 75 cents, and full-year 2011 diluted EPS of $4.15 to $4.30.

U.S. Retail Segment Results

As the company first reported in its sales release on August 4, 2011, Target's sales increased 5.1 percent in the second quarter to $15.9 billion in 2011 from $15.1 billion in 2010, due to a 3.9 percent increase in comparable-store sales and the contribution from new stores. Segment earnings before interest expense and income taxes (EBIT) were $1,147 million in the second quarter of 2011, an increase of 4.6 percent from $1,096 million in 2010.

Second quarter 2011 EBITDA and EBIT margin rates were 10.3 percent and 7.2 percent, respectively, compared with 10.5 percent and 7.2 percent in 2010. Second quarter gross margin rate declined to 31.6 percent in 2011 from 32.0 percent in 2010, due to the impact of the company's integrated growth strategies. The company's second quarter selling, general and administrative (SG&A) expense rate improved to 21.3 percent in 2011, compared with 21.5 percent in 2010.

U.S. Credit Card Segment Results

Second quarter average receivables decreased 12.4 percent to $6.2 billion in 2011 from $7.1 billion in 2010. Average receivables directly funded by Target decreased 19 percent in the second quarter to $2.4 billion from $3.0 billion in 2010.

Second quarter bad debt expense was $15 million in 2011, down from $138 million in 2010, driven by improved trends in key measures of risk. Segment profit for the quarter was $171 million, compared with $149 million in second quarter 2010. Annualized segment pre-tax return on invested capital was 28.5 percent in second quarter 2011, compared with 20.2 percent in 2010.

Canadian Segment Results

Consistent with prior guidance, second quarter 2011 EBIT was $(36) million due to start-up expenses and depreciation related to the company's expected market entry in 2013.

Interest Expense and Taxes

Net interest expense for the quarter was $191 million, including $10 million of interest on capitalized leases related to Target's Canadian market entry. Net interest expense was$185 million in second quarter 2010.