The Workshop at Macy's to identify up-and-coming vendors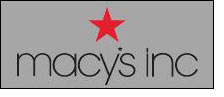 After a highly successful inaugural edition this past spring, Macy's innovative business of fashion program, The Workshop at Macy's, returns to mentor and foster growth for a new class of up-and-coming minority- and women-owned businesses. The retail 101 crash course, aims to take promising enterprises to the next level in order for them to achieve and sustain positive and successful vendor relationships. This industry-first initiative reinforces Macy's long-standing commitment to vendor diversity and to providing customers with unique goods and services that meet their lifestyle.

The Workshop at Macy's is a four and one-half-day intensive training course developed by a consortium of experts from Macy's Learning & Development, Macy's Multicultural Merchandising and Vendor Development, Babson College, the nation's leading business school for entrepreneurship, and with select Macy's merchants and vendors.

The specially-designed business development curriculum is aimed at minority- and women-owned retail businesses that are poised to succeed on a larger scale, but need real-world business practice information and perspective on large-scale vendor relationships to move to the next level and sustain growth. A potential goal of this annual program is to help create a pipeline of viable enterprises that will grow to become successful partners within Macy's own vendor community. First held this past spring, the inaugural Workshop included 22 businesses that ranged from makeup/skincare companies to confectionaries, home textiles and ready-to-wear designers.

"The incredible success of our first Workshop this spring paves the way for a new set of entrepreneurs who are hungry to learn from our stable of experts about the ways they can grow their ventures," said Shawn Outler, Macy's group vice president of Multicultural Merchandising and Vendor Development. "The support and information made available to Workshop participants is invaluable in taking these businesses to the next phase of growth."

The Workshop at Macy's allows selected participants to collaborate with fellow aspiring vendors, gain access to industry experts and solicit one-on-one business coaching. The course work includes classes on merchandising and assortment planning, marketing, EDI, financial management and access to capital.

Of the first Workshop class, Ms. Outler noted, "The entire week served as a revelation for participants, who had many breakthrough moments. You could see things starting to click for them as the week progressed. While many participants came in focused on pitching their lines, at the conclusion of the course work, they came away understanding how merchants think and how to build that relationship. The financial management sessions led by Elizabeth Thornton of Babson College, were especially eye-opening. Every element of the Workshop at Macy's was designed to enhance and create long-term success for their businesses."

Michelle Tunno Buelow, founder and CEO of Bello Tunno, a previous participant, noted, "The Workshop at Macy's challenged us to examine our business on an elevated level. It encouraged us to realistically look at our current infrastructure and strategy, dream bigger, then bridge the gap. The program was planned and executed in such a way that it empowered and inspired our team. We left the week armed with a toolbox for success, a plan for growth and the support of Macy's."