Planned policies vital for non-regional nations - Pres Moreno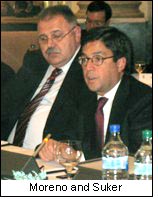 President Luis Alberto Moreno told the non-regional member countries of the Inter-American Development Bank (IDB) to consider different options and loan instruments as they meet to discuss the region's challenges and how best to address them.

"For the first time in decades, we are having these discussions in the context of a favorable economic outlook for Latin America and the Caribbean (LAC)," said Moreno.

Moreno addressed representatives from the 19 non-regional member countries of the Bank during their annual meeting being held on 22nd and 23rd Jan in Zagreb, Croatia.

"With recent financial papers filled with the difficulties faced by the global banking industry, let me begin our meeting on an optimistic and positive note, " added Moreno.

He summarized LAC's economic performance in the past five years, during which countries in the region grew at a pace of 5 percent per year on average - a historically high figure the region hasn't seen since the 1970s.

In 2007, unemployment and poverty in the region continued to drop, with the rates for poverty and extreme poverty falling for the fourth consecutive year. Inflation was held at moderate levels in nearly all countries, and fiscal and external balances were, in some cases, at historic highs.

"Nonetheless, there still are important challenges which many Latin American and Caribbean countries must face and resolve in their quest for sustained growth," said Moreno, addingthat average growth between 2002 and 2006 had been positively impacted by external factors such as higher commodity prices and lower interest rates.