Reform to be a key for Vietnam's economic growth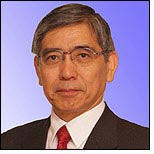 At the conclusion of his visit to Vietnam, Asian Development Bank (ADB) President Haruhiko Kuroda said that as the country's economy continues to develop, Vietnam will need to increasingly focus on factors that will make its economic growth sustainable and less vulnerable to changes in the global economic environment.

Public administration and financial sector reforms, as well as close economic cooperation with Vietnam's Greater Mekong Subregion (GMS) neighbor countries in economic cooperation programs will be key to the country's growth.

"Significant reforms are already underway, and ADB stands ready to lend additional support for these efforts," he said.

President Kuroda met with the General Secretary of the Communist Party Nong Duc Manh, Prime Minister Nguyen Tan Dung, and other senior Government officials during his visit.

He commended Vietnam on its impressive 8.5% gross domestic product growth in 2007 following World Trade Organization accession, while noting that Vietnam will need to carefully manage its macroeconomic policies given the current economic slowdown in the United States and its possible global impact.

President Kuroda further noted that some slowdown in growth at this stage of Vietnam's economic development may in fact be useful, particularly to contain inflation and to ensure that the nation's growth is sustainable.

In advance of the forthcoming third Greater Mekong Subregion Summit in Lao People's Democratic Republic, in which Prime Minister Dung is to participate, President Kuroda also discussed the GMS economic cooperation program with the leaders of the Government, and the role to be played by Vietnam.