Timberland's Earthkeeper to reinforce the importance of 'living green'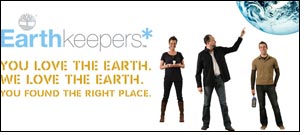 The Timberland Company announced the global launch of the Earthkeeper campaign, a movement to recruit one million people to become part of an online network designed to inspire real environmental behavior change.

"Imagine a forum where people who share energy and interest in the notion of protecting our planet can share information and inspiration," said Jeff Swartz, Timberland's President and CEO. "We think the Earthkeeper campaign will be a way to translate lots of passionate talk and ideas into positive, practical action."

While concerns for the environment continue to be top of mind for many consumers, studies show that they are confused about how they can make a positive difference. Nearly half of those surveyed say they would do more for the environment if they knew how. In response, Timberland's Earthkeeper campaign will reinforce the importance of 'living green' and also help to make it easy and fun for people to make simple, practical changes and share ideas about how to lighten their environmental footprints.

As part of the Earthkeeper program, Timberland will launch an innovative global network of online social networking tools, including partnerships with Changents.com, a strong Facebook presence, a YouTube Earthkeeper Brand Channel and a richly-populated Earthkeeper blog. Uniting these various Earthkeeper "channels" is earthkeeper.com, a website which allows users to navigate through the Earthkeeper network based on their level of interest in learning more or engaging in Earthkeeping.