Trade fair on leather & footwear 'Expo Riva schuh ME' opens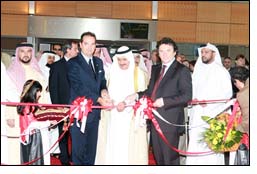 Expo Riva Schuh Middle East, the region's leading trade fair fully dedicated to footwear and leather products, was inaugurated at Expo Centre Sharjah on Monday (February 9, 2009).

The show was opened by Mr. Ahmed Mohammed Al Midfa, Chairman of the Sharjah Chamber of Commerce and Industry.

Also present at the occasion were Mr. Roberto Pellegrini , President Riva del Garda Fierecongressi, Mr. Saif Mohammed Al Midfa, Director-General of Expo Centre Sharjah, Mr. Fasahat Ali Khan, Advisor to the Chairman and Board of Directors of Expo Centre Sharjah, and industry representatives.

Offering a 360-degree view of the entire industry in one convenient location, the show will run until Wednesday (February 11) at Expo Centre Sharjah.

"The second edition of ExpoRivaSchuh Middle East is taking place after a very successful debut of the show in February last year. Though we are in the midst of an economic slowdown, I believe the footwear industry is unlikely to face any serious issues. This is mainly because we are continuing to add new retail space, which spurs demand for a variety of products and brands -- footwear and leather products being prominent among them," said Mr. Ahmed Mohammed Al Midfa after the opening ceremony.

The dignitaries went around the stalls and were briefed about the displays and the market opportunities present in the country and the region.

"The fact that majority of the construction projects in the country are progressing well means millions of square metres of retail space will be added to our economy in the near future. This is going to offer a tremendous opportunity to the footwear and leather products' sector," Mr. Ahmed Mohammed Al Midfa said.

About 4.2 million square metres of mall space is in the works in Dubai alone. By 2010, 16.35 million square metres of retail space will be complete in the GCC, with 2.6 million square metres of gross leasable area set to be ready by this year.

The show this time is featuring around 150 exhibitors and brands of leather goods and footwear in the low, medium and high-end brackets, representing 20 different countries. Italy with 22 companies continues to be the biggest exhibitor. This is followed by China and India, respectively. Pakistan, too, has a significant presence.

"We haven't left any stone unturned to promote the fair among our key target markets," said Mr. Saif Mohammed Al Midfa.

"In this regard, a huge delegation of top buyers, mainly from the Middle East and CIS countries, will visit the second edition of Expo Riva Schuh Middle East," Mr. Saif Mohammed Al Midfa said.

A special hospitality package will be provided for the VIP buyers, where a round trip ticket and hotel accommodation is being provided. Trade analysts, who will provide assistance in selecting the most interesting products, will accompany these select buyers.

"This novel initiative is carried out in association with the Italian Institute for Foreign Trade - Rome and is aimed at boosting business at the show," added Mr. Saif Mohammed Al Midfa.