G20 Chambers - look up at international organizations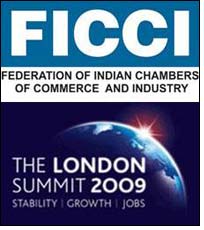 In a Common Declaration issued ahead of the G20 meeting in London on April 2, Chambers of Commerce from the G20 countries, including FICCI from India, look to supranational organisations as the most viable source of an effective global response to the current financial and economic crisis. At the same time, G20 Chambers have expressed general satisfaction in their country's recovery plans and agree with most of the measures included in them.

The International Monetary Fund, the World Bank, the Financial Stability Forum and the World Trade Organisation must now be given the power, both in terms or structure and political representation, to lead the world out of the crisis, the G 20 Chambers have declared.

This is part of a coordinated effort, to which FICCI is lending unstinted support, by G20 countries to build a consensus amongst nations on the steps needed to alleviate the difficult economic situation worldwide. From India, FICCI is the only national chamber that has joined chambers from other countries to take this effort forward.

This message derives from an assessment by G20 Chambers of their respective National Economic Recovery Plans. The magnitude and reach of these plans varies significantly from country to country, and certain important measures seem to be missing from some plans, especially with regard to enhancing medium to long-term economic competitiveness and clean technologies. Nonetheless, G20 Chambers express general satisfaction in their country's recovery plans and agree with most of the measures included in them.

In particular, G20 Chambers consider that national measures concerning investment in infrastructure, access to finance and employment have been put in place and should thus help in addressing the crisis in the short term.

But for long-term and lasting solutions, attention should now turn to international organisations.

The responsibilities and composition of the International Monetary Fund (IMF), the World Bank and the Financial Stability Forum should be carefully reassessed. Also, these institutions must be adequately financed so that they can carry out their functions in a timely and appropriate way.

In addition, the World Trade Organisation (WTO) must continue to play its role as global governor of the multilateral trading system. Going against WTO principles and falling to the temptation of protectionism would not only restrict trade in goods and services, but also distort the global economy, hindering rather than helping the recovery.

G20 Chambers consider that the London meeting must now deliver on the promises made at the Washington Summit in November 2008, on the basis of concrete proposals to strengthen the transparency and accountability of the world's financial markets while tightening the way they are regulated and to reform global financial institutions through reinforced multilateral cooperation.

G20 Chambers strongly believe that the London summit must prove to be the starting point of both active crisis management coordination and reform, which will require the ongoing commitment of all parties involved. Financial markets, as well as economic actors, need to regain confidence, quickly.