President of FIEO to share concerns of exporters with RBI Governor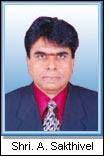 The Reserve Bank of India (RBI) will be holding a meeting today afternoon to take stock of export related problems being faced by the exporters of all sectors. On this occasion, President, FIEO, Mr A Sakthivel has been invited to share his views points comprehensively on exports with RBI Governor.

Mr Sakthivel will discuss the following points with the RBI Governor.
1. About 1.3 lakh SME entrepreneurs are seeking a debt revamp from Government owned banks. While complete corporate debt restricting worth Rs. 14,000 crores till February 2009 has been cleared about one lakh MSME's have approached banks for rescheduling of loans.

2. Sir, exports have recorded a fall in March 2009, for the sixth time in a row and with consumer spending in the negative zone in the developed markets of US, EU and Japan, there appears to be a bleak possibility of things picking up in the near future.

3. While limited orders are coming to the Indian export kitty from these markets which have now become extremely price competitive, the cost of credit being 9% and above for MSME borrowers is a stumbling block for producing a cost competitive product for such markets.It is submitted that in such circumstances interest subvention may be provided to tea, basic chemicals, engineering goods, jute, plastics & linoleum and merchant exporters. Further the scheme may be extended till 31st December, 2009.Cooperative Banks may also be brought under the ambit of the interest subvention scheme so that the MSME sector can utilize the facility optimally.

4. One the problems that requires the immediate attention of the RBI is the losses suffered by MSME export sector who had opted for derivative products in the wake of rupee appreciation and lost heavily in the process. With collective losses of Rs. 2000 crores many of them may be "wiped out completely" .

RBI may consider issuing directives to Banks to settle losses: on 50:50 basis where banks may absorb 50% of the losses while the MSME sector may bear 50% of the balance on a deferred basis.It may be noted have that many of the derivative contracts entered into were in contravention of RBI guidelines and the committee may consider regulatory measures to ensure that such problems be avoided in future.

5. With the recession being the worst since the 1930's, RBI has kindly extended tenures for pre and post shipment credit in tandem with international requirements. It is requested that RBI may consider directives for providing Working Capital Term Loans against export receivables, moratorium on term loans, extending period for declaring of NPA's from 90 days to 180 days under the circumstances.

6. Since, a cost competitive product is an important requirement in the market today overhead costs need to be pruned effectively.Some of these include ECGC whole turnover post-shipment premium where RBI master circular states that it "may be absorbed by the bank and not passed on to the exporter" , the RBI may consider issuing directives to make it obligatory on banks to absorb the cost of premium.Schemes like the Gold Card Scheme need to be reviewed since banks are withdrawing facilities available under the scheme to status holders, enhancement of period of export realization to 2 years for status holders and 1 year for non status holders; waiver of overdue interest which is as high as 16% may also be considered to reduce overhead costs.