ASSOCHAM predicts 10% dip in export revenue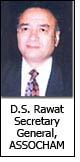 The Associated Chambers of Commerce and Industry of India (ASSOCHAM) has forecast a minimum of 10% dip in export proceeds of India during fiscal 2009-10 in the backdrop of continued demand constriction in overseas market especially US, EU and UK.

In its preliminary assessment on Export Targets Vs. Reality, the ASSOCHAM is of the view that in US alone, nearly 60% fall in export proceeds of India have been witnessed in 3rd and 4th quarter of fiscal 2008-09. US being the largest trade partner of India will continue to suffer slowdown in 2009-10, the reflection of which would naturally fall on India's export to it.

Likewise, the scenario in EU and UK would remain so in the current fiscal and therefore India needs to be realistic as far as its export targets are concerned. The Deptt. of Commerce & Industry had set export targets of US$ 200 billion for current fiscal.

Against this, it is highly likely that the total export proceeds on realistic basis would not be more than US$ 160 billion. It may be mentioned here that in fiscal 2008-09, the export proceeds brought India revenues to an extent of US$ 170 billion.

The assessment carried out under supervision of Mr. D S Rawat, ASSOCHAM Secretary General points out that the most prolific export earning sectors will remain under severe stress in 2009-10 because of their demand constrictions overseas and lack of incentivized policies on domestic front.

These include sectors such as textiles, handicrafts, carpets, leather, gems & jewellery, marine products including spice exports. Textile sector which is a major revenue earning source will continue to face technological upgradation as sufficient funds are unlikely to be allocated for it.

Job losses will continue to take place in the sector and it will face much more severe competition from neighbouring countries such as Pakistan, Sri Lanka etc. which will squeeze its competitive edge in economies of scale especially EU, US and ASEAN including Latin America, said Mr. Rawat.

The situation will be more or less same for other sectors already identified in the assessment and due to this, India's export competitiveness will erode amounting to 10% dip in its export earning in year 2009-10, adds the ASSOCHAM Chief.

According to ASSOCHAM, the corporate sector expects the period of downturn in the economy to go on until JANUARY 2010 and it is only after that the economy will start bouncing back and the fiscal packages announced by the government will start paying richer dividends to Indian Inc.

The last quarter of the current fiscal will bring in maximum earnings to India through exports as by then, revival will have taken place in saturated market for creating demand for Indian products.

The ASSOCHAM is also of the opinion that just as the government revised its export targets for fiscal 2008-09 by bringing it down to US$ 175 billion from earlier target of US$ 200 billion, in the later part of the current fiscal, the Ministry of Commerce & Industry might do the same as well in later part of current fiscal.