Two New York platforms come together for entrepreneurial world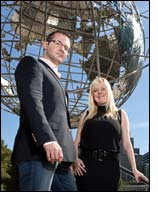 New York Entrepreneur Week announced its partnership with Nolcha's Independent Retail Week: New York. This alliance joins together two unique organizations, bringing diverse education and support to New York's entrepreneurial ecosystem throughout the week of November 14-20, 2009.

The move of Independent Retail Week: New York to align with NYEW unites 120 speakers from 50 cities, 18 states and 3 continents from NYEW with Independent Retail Week's 80+ entrepreneurs. The move is an effort to support entrepreneurs across all sectors and to facilitate knowledge and growth on entrepreneurship throughout the state.

NYEW, one of the largest aggregators of entrepreneurial events in the world, and Nolcha's initiative, Independent Retail Week: New York, come together to form one of the most revolutionary platforms to promote entrepreneurship in decades. Both organizations aggregate the state's disconnected entrepreneurial community, of all revenue sizes and sectors. This important partnership provides an exclusive educational experience for all entrepreneurs- from enterprising young idea-stage innovators to hundred million dollar revenue generators.

"It is an exciting time to see two New York platforms come together and leverage their vision as well as the tools, resources and support for the entrepreneurial world," said Kerry Bannigan, CEO, Nolcha. "We are in a society that needs to provide guidance and connect the missing links in the realm of entrepreneurship – no matter what the segment."

Nolcha and NYEW both thrive on the same mission: to bring entrepreneurs the aggregated resources and education they need in order to facilitate a healthy entrepreneurial ecosystem. Both NYEW and Nolcha provide unique educational experiences for entrepreneurs that other organizations and events simply do not offer. Furthermore, both organizations provide unmatched initiatives to overcome business challenges, increase revenue and create jobs for businesses throughout New York.

Nolcha's Independent Retail Week: New York, aims to drive business and provide brand awareness for independent retailers via a weeklong city wide shopping extravaganza for fashion and beauty lovers. The idea that entrepreneurs, whether in the fashion, technology or financial arena, need a boost, is relevant across all industries.

New York Entrepreneur Week encompasses five days of innovative and hyper-targeted events, including; keynote speeches from world renowned business leaders, panels addressing mission critical business topics, and the flagship RELENTLESS business plan competition. The need for innovative platforms such as these are evident in the support provided by over 200 strategic partners for New York Entrepreneur Week such as Meetup.com, TheLadders.com, Gilt Groupe, SecondMarket, New York Angels and FirstMark Capital.
Although these two events will occur simultaneously throughout the week of November 14th-20th, 2009, both organizations will unite on Friday for the NYEW retail-themed day, featuring Marc Ecko and Gilt Groupe founder, Alexandra Wilkis - Wilson.