Commerce Secretary outlines National Export Initiative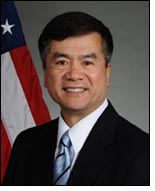 Commerce Secretary Gary Locke unveiled details of President Obama's National Export Initiative [NEI] at a luncheon at the National Press Club. During last week's State of the Union speech, the president announced a goal of doubling exports over the next five years to support 2 million jobs in America.

Locke detailed how the Export Initiative will help the country reach that goal – providing more funding, more focus and more cabinet-level coordination to grow U.S. exports. The NEI represents the first time the United States will have a government-wide export-promotion strategy with focused attention from the president and his cabinet.

"Increasing the export of American products and services to global markets can help revive the fortunes of U.S. companies, spur future economic growth and support jobs here at home," Locke said. "This initiative will correct an economic blind spot that has allowed other countries to slowly chip away at the United States' international competitiveness."

The National Export Initiative is focused on three key areas:

1 A more robust effort by this administration to expand its trade advocacy in all its forms, especially for small- and medium-sized enterprises. This effort includes educating U.S. companies about opportunities overseas, directly connecting them with new customers and advocating more forcefully for their interests.
2 Improving access to credit with a focus on small- and medium-sized businesses that want to export.
3 Continuing the rigorous enforcement of international trade laws to help remove barriers that prevent U.S. companies from getting free and fair access to foreign markets.

In addition to improving efforts in those areas, the Export Initiative creates an Export Promotion Cabinet reporting to the president that will consist of top leaders from agencies that can contribute to this effort, including from the Commerce and State Departments, the U.S. Trade Representative, the Small Business Administration, the Export Import Bank and the U.S. Department of Agriculture.

Within 180 days, each of the departments in the Export Cabinet will be responsible for submitting a detailed plan to the president about how it will enhance American exports. Those plans will be integrated into the strategy laid out in the NEI.

Access to Export Financing
To improve access to credit, the president has called upon the Export-Import Bank – which provides critical financing when private banks are unwilling or unable – to increase its financing available for small- and medium-size businesses from $4 billion to $6 billion over the next year. The 2011 budget also allocates additional money to help the Export-Import Bank administer its expanded efforts.

Progress is already being made. During the last three months alone, the bank has authorized $1 billion in small business financings and added 112 new small businesses clients, who are selling everything from nanotechnology-based cosmetics to date palm trees to sophisticated polymers.