K-C to manage Intradeco Apparel recycling program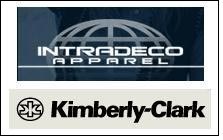 In May, 2010, Intradeco Apparel, through its subsidiary Intradesa in Soyapango, El Salvador, embarked on its continued efforts to create more sustainable practices at their facilities. This movement is part of Intradeco's Corporate Environmental Responsibility in which the company has made strategic alliances with domestic companies to meet their criteria of environmentally responsible goals. This program expands the management team's goals to stay ahead of the curve on sustainable programs, as well as the reuse of waste, and regeneration of energy.

Most recently Intradesa has initiated an effort to develop a paper recycling campaign with Kimberly Clark. Primarily, this program involves the collection and regeneration of paper waste at the manufacturing plant which turns collected paper waste to future use and benefits. Kimberly Clark will manage Intradesa's internal recycling program. The second link in this project involves Intradesa's commitment to purchase the recycled paper, from Kimberly Clark. Intradesa will be the first in El Salvador to bring about a project like this, which may hopefully incentivize other manufacturers to follow its lead.

An environmental impact study has been conducted at Intradesa, highlighting the impact of forming strategic alliances with outside companies to handle recycling processes. In addition to the newly established Paper Recycling Program with Kimberly Clark, other sustainability processes have included Waste Oil with Textiles San Andres SA; Solid Waste- through Recycling Company Textil SA of C.V., and sewing needles and infectious clinical bio waste by corporate HR SA of C.V

Intradeco Apparel is a vertical manufacturer based in Miami, FL. and supplies retailers with thermal underwear, performance activewear using recycled polyester, yoga wear, licensed products and organic cotton casual wear. Along with its Miami headquarters and distribution center they have manufacturing facilities in El Salvador and Nicaragua, and sales offices in New York City, Miami and Bentonville, Arkansas. Intradeco Apparel is the leading thermal supplier to the USA under their exclusive license with Fruit of the Loom brand including Fruit of the Loom, BVD, and Jerzees. They also have licensing agreements with Nickelodeon, Disney, Hershey's, Care Bears, Nestle, Mutts, and Tootsie Roll. Intradeco's business partners are the largest retailers in the world, including Wal-Mart, Sears, K-Mart, Target and JCPenney.

Intradeco Apparel Inc.