FIT President Dr. Brown to support Japan Fashion Week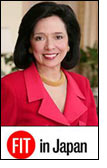 Dr. Joyce F. Brown, president of the Fashion Institute of Technology (FIT) in New York City, will make a historic trip to Tokyo, from Monday, March 19 to Thursday, March 22, to demonstrate the college's support for Japan's fashion industry and FIT's 500 Japanese alumni.

Dr. Brown will also pay her respects to the Japanese people on the first anniversary of the tragic tsunami, earthquake, and nuclear events. This is the first time that a president of FIT has traveled to Tokyo to meet with alumni and the Japanese fashion industry.

Accompanying Dr. Brown will be Dr. Valerie Steele, director and chief curator of The Museum at FIT and curator of the groundbreaking exhibition, Japan Fashion Now, along with other administrators from FIT.

The group will take part in a special seminar; host a reception for FIT alumni and the fashion industry, which will be sponsored by the FIT Alumni Association in partnership with Ralph Lauren; attend runway shows during Japan Fashion Week; and connect with Japan's fashion industry.

With many Japanese students attending FIT for their education and with long-standing ties to FIT alumni who return to Japan, the college has a strong relationship with the Japanese fashion industry.

The Japan FIT Alumni Association (JFAA) was founded in 1969 by FIT alumni Takao Shimizu (1962), Katsuhiko Ikeda (1967), and Yoko Ohara (1967), who continues to lead the organization. Its members range in age from 20 to 78 years old and include Tsutomu Okuda, Chairman & CEO, J. Front Retailing Co., Ltd. (Daimaru and Matsuzakaya Department Stores); Tsuyoshi Monden, president of Agnes B Japan; Takahiko Miyake, president of Sanei International; and Hiroko Ito, designer and owner of HISUI. FIT's Japanese alumni work in a wide range of fashion-related professions such as fashion design, merchandising, pattern making, fiber and textile development, sales, retail, media, and advertising.

"I am honored and excited to visit Tokyo to show support for our alumni and for the Japanese fashion industry during a time of challenges and change," said Dr. Brown. "FIT and its Japanese alumni have maintained a close relationship for more than 43 years, thanks in large measure to the efforts of Yoko Ohara. We at FIT value these ties – and the remarkable melding of tradition and creativity that is a Japanese hallmark."

The seminar, "Human Power Development and Japan Fashion in the Age of Globalization," will be held on Wednesday, March 21, from 9:30 am to noon at the Midtown Conference Center, 9-7-2 Akasaka, Minato-ku (Conference Room 7). The event will proceed as follows:

• Yoko Ohara will give greetings and introduce Masahiko Miyake, board chairperson of Japan Fashion Week and chairman and representative director of TSI Holdings Co., LTD.
• Mr. Mikyake will give remarks and introduce Tadashi Yanai, CEO of Uniqlo and founder and president of Fast Retailing Inc.
• Mr. Yanai will speakabout how Japanese companies and professionals can cope with the globalization challenge.