Pacific Textiles performs satisfactorily against challenging environment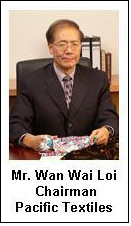 Mr Wan Wai Loi, Chairman of Pacific Textiles Holdings presents consolidated financial results for the 2011 financial year and to give an overview of the Group's strategy and business outlook.

Economic Overview and Financial Performance

The 2011 Financial Year was a very challenging year for the industry. Although the world economy recovered with a reasonable upswing in the first half of 2010, the momentum subdued with a rise in unemployment in most industrial economies in the latter half of the year. Inflationary pressure was mounting, in par ticular, the prices of cotton and cotton yarns reached record high levels. During the year under review, cotton prices went up by more than double, a result of global shortage and poor harvest in Pakistan and China which made the supply concern prominent.

As cotton is the major raw material for producing cotton yarn, the sharp hikes in cotton price had exer ted pressure on our operating cost. Though the cotton price had eased slightly in the last few months, however, with the volatility of cotton prices, the upsurge of labour costs and the appreciation of Renminbi, we faced unprecedented challenges during the year under review. Despite the tough and fragile business climate, the Group spearheaded with its growth and operating strategies: a combination of improved efficient operational capabilities, stringent cost control, financial vigilance, strong commitment to our customers, and investment for the future.

The financial year under review saw the Group continues to stay as one of the strongest players in the highly competitive textile industry. Driven by strengthened marketing activities, we have registered consolidated revenue of HK$7,180.7 million for the 2011 Financial Year, which is a growth of 22.1% over previous year. The Group's sales volume achieved a growth rate of 6.8% and reached 209.1 million pounds, compared to 195.8 million pounds of the last financial year.

Profit attributable to shareholders amounted to HK$876.4 million, while earnings per share was HK$ 0.61, compared to HK$0.56 in the previous financial year, representing an increase of 8.9%.

The Board has proposed a final dividend of HK19 cents per share. Together with an interim dividend of HK 14 cents per share, the total dividend for the 2011 Financial Year will be HK33 cents per share.

Business Overview
The 2011 Financial Year was a year of consolidating the Group's core pillars. With a reputable history of ser vice and product reliability, we continued to strengthen our position as one of the leading fabric manufacturers in the industry. The Group persisted to maintain strict monitoring of cost control, optimisation improvements of existing production process and introduction of technological innovations to enhance operational efficiency. The Group also regularly adopted programs to achieve effective inventory management by analysing inventory adjustments.