Durst Kappa 180 will be premiered at ITMA show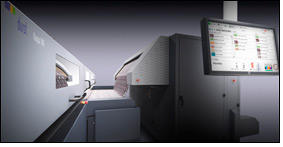 Durst, the specialist in industrial inkjet applications, is presenting the new generation of high-performance digital printers for the textile industry: the Durst Kappa. The Kappa 180 has been developed on the basis of Durst's proprietary Quadro printhead technology and is a product of the company's Development Center in Kufstein, Austria, the primary aim being to meet the specific requirements of the textile industry with "QuadroZ".

At the same time, the company's own high-grade inks (Kappa Inks) for textile printing were developed in the Durst Research Center in Lienz, Austria. The Durst Kappa 180 sets new standards in the industry, with a printing speed of more than 600 sq.m./ hour (over 300 running meters) and outstanding printing quality (1056x600 dpi).

The official market launch for the Durst Kappa 180 will be at the ITMA 2011 trade show in Barcelona, where textile specialists can see for themselves the performance capabilities of the new Durst system and can find out more about the new potential inherent in digital textile printing.

As Hannes Fischer, Head of Phototechnik AG's Textile Development Center in Kufstein, explains: "Durst Kappa 180 is a genuine alternative to flat bed screen printing and with its outstanding speed and printing quality it is the new premium product in the textile printing sector."

For Durst customers, optimal image quality – together with real value added – has top priority. Accordingly, every means possible was and still is utilized at the development stage to enhance quality levels still further. The specifications of the Durst Kappa 180 are correspondingly impressive.

Through the use of water-based inks, the Durst Quadro Array technology, suitably modified for textile printing, makes it possible to print on textiles by way of a specially hardened, fray-resistant nozzle plate with a drop size of 7-21 picoliters. 6,144 jets per color produce a resolution of up to 1680 dpi, while a single automatic nozzle cleaning system ensures uninterrupted operation.

The QuadroZ Arrays print eight colors in CMYK, orange, red, blue and gray, with no modulations or density fluctuations. A key role is played here by the ink delivery system with the osmosis filtering system, which eliminates the tiny gas bubbles in the inks and ensures that the printing is constant and failure-free.

The result: printing speeds in high-speed mode of more than 600 sq.m./hour with an inking rate of 7g/m2 and a resolution of 1056x600 dpi. In high-quality mode up to 320 sq.m./hour can be achieved, with an inking rate of up to 14g/m2 and a resolution of 1056x600 dpi. The top-quality Durst Kappa 180 textile printing machine has fully automatic feeding-in and guiding facilities for textiles with a maximum printing width of 195 cm and a printing blanket with an integrated washing system. The drying unit is a hot air dryer powered by gas, steam of electricity.

Specially for textile printing, Durst has developed its own Kappa Inks for the piezo inkjet multipass technology. Thus, the different textile fibers can be printed with absolutely environmentally friendly, water-based dispersion, reactive and acid inks using the QuadroZ Arrays.