Clariant's new denim chemistry inspires Karl Mayer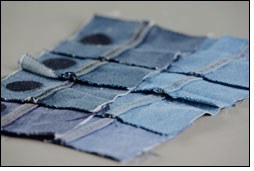 Based on Clariant's 'Advanced Denim' dyeing process, machine builder Karl Mayer's Indig-O-Matic system is now able to offer superior efficiency, flexibility and eco-friendliness for weavers.

Making denim processing more sustainable, both in terms of resources and the environment, has been a pressing need within the textile industry for some years. Swiss-based chemical company Clariant, with its recently launched innovative Advanced Denim dyeing process, has been able to meet these demands, with the ability to reduce the number of boxes used in conventional dyeing from 12 to one.

It has also generated other environmental and ecological benefits for the production of the ubiquitous, always-in-fashion fabric. These include a massive reduction in water consumption, with up to 92% less with minimal generation of wastewater, energy savings of up to 30%, and up to 87% less cotton waste compared with conventional slasher dyeing processes.

This development was not only of interest to the fabric producers but also to the Karl Mayer textile machinery company, which immediately saw the advantages of working with the Advanced Denim concept.

The Advanced Denim concept, designed to work using a mill's existing equipment, was based on Clariant's Denim-Ox process, which incorporates its Diresul RDT dyes. It has been further refined by Clariant's Pad/Sizing Ox innovation, which uses the same dyes and the recently patented sizing agent Arkofil DEN-FIX and provides a rich variety of colors and shades and is suited to the various forms of weaving and finishing denim. In combination with the company's full range of Diresul RDT sulphur dyes, including non-indigo based Diresul RDT Indicolors, Advanced Denim offers unique effects, improved fastness, better reproducibility of shades and easy application for more precise results.

All of these advances attracted the attention of German textile machinery company Karl Mayer, considered to be the world's leading manufacturer of warp preparation equipment for weaving. As a result, Clariant and Karl Mayer have combined their specialist knowledge of denim and have concentrated attention on integrating the conventional ring dyeing process.

Karl Mayer has revamped and refined its existing systems and, as a result of work done by the chemical company, is now offering its Indig-O-Matic machine system based on Clariant's Pad/Sizing Ox dyeing process, an integrated modular concept for the denim sector, which combines both traditional as well as ecologically optimized processing techniques.

In denim production, the warp yarns are dyed separately prior to being woven, contributing to the unique feel and appearance of the fabric. Karl Mayer's modular Indig-O-Matic warp yarn preparation system is also geared towards the continuing market demands for smaller runs and rapid reaction to changing fashions in the denim industry, in ensuring the warp yarns are fully ready for the subsequent processing.