Seminar about Oeko-Tex & Eco Passport successfully organized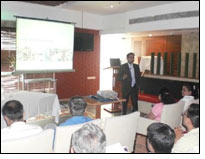 In recent years, there has been a great increase in awareness about the importance of human friendly textiles and subsequent growth in demand for such products in the market.

In the context of such development, Hohenstein India Pvt Ltd, which is the official certification body for Oeko-Tex Standard 100 in India, conducted a seminar at Country Inn & Suites, Ahmedabad on 20th July, 2011. This was done to engage and foster better interaction with members of the textile and dyes industry regarding Oeko-Tex and current trends in textile quality & technical compliance.

The objective of holding this seminar was to increase awareness about quality standards and to discuss means of greater adoption of standardisation in the Indian textile industry. The goal was also to discuss the technicalities involved and to clarify doubts and suspicions in the presence of key personalities of the textile industry. A brief overview of other services offered by Hohenstein was also presented at this seminar.

Oeko-Tex is a product certification with exclusive focus on the human ecology aspect of textile products and processing. Being certified for Oeko-Tex Standard 100 allows for the use of the label "Confidence in Textiles – Tested for harmful substances". This wording generates confidence in end users and they tend to choose Oeko-Tex certified articles since the label signifies safety against substances that are harmful to human beings.

Hohenstein India Pvt. Ltd. is a subsidiary of Hohenstein Institutes, Germany and the official representative of International Oeko-Tex Association in India. Hohenstein is a premier German research institute having wide ranging interests in testing, evaluation, research, inspection, auditing, certification etc. for a wide range of products and services in Textiles like fibres, garments, home-textiles, accessories, dyes/chemicals, technical textiles etc.

In the opening session, Mr. Vinay Chavan (Marketing Executive) presented some brief thoughts on the history of Hohenstein Institutes and their philosophy. Hohenstein Laboratories have different facilities available in various fields. Chemical testing, clothing technology (fit & workmanship), consumer tests, function and care etc. are some of them. Hohenstein is also pioneer in providing various certifications and quality labels like Oeko-Tex Standard 100 and Oeko-Tex Standard 1000, Eco Passport certificate, UV protection, Personal Protective Equipment, RAL, Monitored Hygiene in Hotels, Testing of Medical Compression Hosiery, Skin Friendly, Barrier Textiles, Thermal Insulation etc.

The Branch Manager for Ahmedabad office, Mr. Sumit Gupta (Asst. Manager Technical Compliance) presented about Eco Passport, which was well received by the members of the dyes and chemicals industry. The Eco-Passport can be issued for textile dyes and auxiliaries. It serves as a neutral proof of these products' suitability for the production of textiles thatare harmless to human health such as Oeko-Tex certified articles.