18th SPINEXPO Shanghai to raise its curtain in September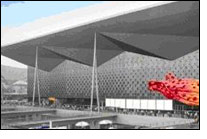 Organized by Well Link Consultants LDT – HK, SPINEXPO was launched in Shanghai, at Shanghai International Exhibition Center, in March 4-5-6, 2003. It moved to Shanghai Pudong Expo Center for its 10th session, in September 2007, where it is held twice a year in the spring and autumn. SPINEXPO New York was held for the first time in July 20-21-22 2009, at the Metropolitan Pavilion & Altman Bldg, in Fashion District, New York. Takes place once a year in the summer. September 6-7-8 2011, the 18th SPINEXPO Shanghai will move to the Shanghai World Expo Exhibition & Convention Center and start a new journey from now!

Since the first International Textile Exhibition created by SPINEXPO, it has been dedicated to the most comprehensive and selective international offer in the sector of quality creative yarns & fibres, Knitwear & Knitted Fabrics, Innovative Textile Machinery and relative Trend Developments. With 9,456 visitors from 45 countries joined the last session, the number of visitors was 19% higher compared with 2010. Bros, Cariaggi, Consinee, Filpucci Spa, Huafu, Lineapiu, Ply Naturally, Santoni, Stoll, Sudwolle, Todd&Duncan, and XinAo etc, more than 140 domestic and international enterprises appeared together, that proved the leading position of SPINEXPO in international yarn & fibres exhibition sector.

According to the introduction of Ms. Karine Van Tassel, the founder and organizer of SPINEXPO, change of venue is because of the rapid development of SPINEXPO in China. With the successfully holding of the last session, we hope to help all the exhibitors to get a real diversification. SPINEXPO also want provide a more advanced and first-class venue for the future development of SPINEXPO. The new venue will gather all exhibitors in the same floor, and the modern & fantasy facility will further enhance SPINEXPO's reputation.

The exhibitor recruitment of the 18th SPINEXPO Shanghai wane to the close, which includes many well-know companies. As the leading yarn enterprise at home and abroad, they will show the latest product and technology in SPINEXPO Shanghai, including the creativity yarns and fibres.

Mohair South Africa currently produces 54% of the total world production of this natural eco-friendly fibre which is a renewable natural resource, providing a sustainable production chain between animals and humans as well as contributing long-term prosperity to the Karoo region in South Africa. Used by most exhibiting spinners, mohair fibre is coveted by the world's fashion industry elite as well as by interior designers.

AKSA, leading producer of acrylic fibre from Turkey, developed PILLOUT, a fibre manufactured by wet spun techniques to apply to machine knitting. AKSA products can be used in a large range of sectors and blended with other natural and synthetic fibres, for use in hand knitting and machine knitting yarns. Resistant against moths, and achieving deep colours when dyed, the fibre displays a warm and natural look.