NY futures able to extend their recent gains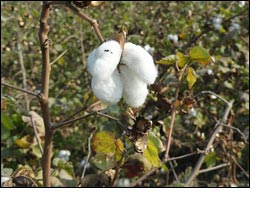 NY futures were able to extend their recent gains, with December advancing another 235 points to close at 104.92 cents.

Cotton showed a lot of relative strength compared to other commodities and investments this week, especially during today's "dump everything" session, in which crude oil dropped by over 5 dollars/barrel, the CRB index lost 2.8% and stock markets around the globe had the biggest selloff since October 2008.

Although physical demand for cotton is still lackluster outside of China, selling pressure has clearly subsided since the December contract rebounded from a low of 93.20 cents last week. According to the latest CFTC data, which includes both futures and options, the trade was 9.0 million bales net short as of July 26, while index funds owned a 5.25 million bales net long position and all other speculators accounted for the remaining 3.75 million bales net long.

The problem we see with this trade net short in futures is that it is mainly 'hedging' long positions in foreign growths, such as Brazilian, Australian, Indian and African origins. When we look at the US position, we currently have 7.4 million statistical bales in outstanding export commitments plus whatever shippers already sold to domestic mills. In other words there is a substantial amount of physical sales on the books, which is only partially covered by the remaining inventory plus whatever merchants have bought from growers and coops so far. We estimate that merchants are around 2.0 million bales net short in US cotton.

If our assumption is correct, then the trade is both futures and physical cotton net short in the US, while it is long foreign growths. As we have stated before, we believe this to be a dangerous set-up, because the existing US inventory will likely be depleted by November and there will be a lot of demand for early arrivals in order to meet the record amount of export commitments on the books. Therefore, to add to this already large US short position, especially in December, doesn't make any sense for the trade, which is probably why there has been an absence of strong trade selling on this move up.

Although the US cotton situation looks supportive to us, it has to be weighed against the negative developments we are currently seeing in outside markets. With the US and Europe in crisis management mode, investors have once again flipped the switch to "risk off", with immense amounts of liquidity seeking the relative safety of US or UK sovereign bonds. Today the 10-year US note yield dropped to less than 2.5%, while the 10-year UK gilt yield fell below 2.7%. It is more than a bit ironic that long-term interest rates of these two economies are trading at such low levels given the immense debt and fiscal problems they have. But with equity and commodity markets under pressure due to renewed recession fears, and alternatives like the Swiss Franc or precious metals being too small to accommodate the trillions of dollars sloshing around the globe, there seems to be no other place to hide at the moment.

The European Central Bankintervened today by buying Portuguese and Irish bonds in an effort to calm the market, but it could not prevent Italian and Spanish 10-year bonds from spiking to new highs of well over 6%. We believe that the ECB will stand by with plenty of liquidity (= printing money) in order to prevent the crisis from escalating and it won't be too long before the Federal Reserve will join in with QE3 (= more money printing) in order prevent an implosion of the US economy. Once that happens, investors will probably breathe a sigh of relief and flip the switch to "risk on" again, heading back into commodities as a way to seek protection against all this money printing.