Carbon farming project at Henbury Station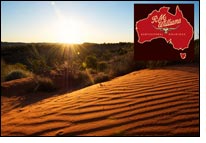 An Australian company is among the first to grasp the economic opportunity of a clean energy future, with a multimillion dollar project to establish a sustainable basis for carbon farming and long-term biodiversity conservation.

Environment Minister Tony Burke joined members of R.M.Williams Agricultural Holdings at Henbury Station in the Northern Territory to announce the pioneering landmark project.

"This iconic Australian business wants to establish a new model for nature conservation and climate protection, where carbon credits fund ongoing biodiversity management," Mr Burke said.

"With Gillard Government support through Caring for our Country, the company has purchased Henbury Station, a $13 million pastoral property in a diverse and under protected Australian arid environment.

"Henbury is home to a host of rare and threatened native plants and animals. It forms a vital building block in the Territory Eco-Link conservation corridor from South Australia to the Arafura Sea. The corridor links adjacent reserves and boosts the resilience of the landscape, so that native species have room to adapt to a changing climate.

"It's a great win for biodiversity, as Henbury will now be protected forever as part of Australia's National Reserve System, our most secure way of protecting native habitat."

Parliamentary Secretary for Climate Change and Energy Efficiency Mark Dreyfus welcomed the project to rehabilitate Henbury Station, which is expected to be supported by the sale of credits created under the Government's Carbon Farming Initiative.

"The Carbon Farming Initiative will unlock new economic opportunities, just like this one at Henbury, for farmers and other landholders who take action to reduce greenhouse gases," Mr Dreyfus said.

"This is a key part of the Gillard Government's climate change agenda, and is set to open up new income streams for farmers and landholders across regional Australia.

"Landholders and investors around the country will be watching this exciting pilot project for its innovative approach to conservation and biodiversity. They'll be looking to see how R.M.Williams Agricultural Holdings goes about the business of generating biodiverse carbon credits to support the regeneration of Henbury Station."

Managing Director of R.M.Williams Agricultural Holdings David Pearse described the project as 'learning by doing'.

"We're in the business of sustainable agriculture and we see an exciting opportunity in carbon sequestration," Mr Pearse said.

"By actively managing fire, water, weeds and feral animals on this former pastoral property we'll encourage natural revegetation, removing carbon dioxide from the atmosphere and storing carbon in the soil and native plants. We'll be creating sustainable habitat and enhancing biodiversity.

"Over the next year we'll be working with respected biodiversity and carbon advisers to establish a rigorous scientific methodology for carbon projects like Henbury.