Clariant to organize innovation sessions on Sustainability at ITMA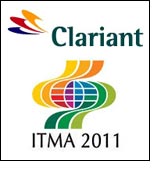 At ITMA 2011, Clariant will launch more than 25 product, process and effect innovations during its daily "innovation sessions" at Booth H4-A150-151. The new products add to an already unique portfolio and confirm Clariant as the innovation company in the textile chemicals industry. Clariant is a matchless system supplier of customized solutions and elevates the standards of the entire textiles value chain by offering benefits to all customers. The company's focus is firmly on closely intertwined concepts that meet the demands of sustainability, protection, performance and fashion.

Sustainability
The challenge to make textile processes sustainable as far as environmental resources are concerned is a pressing reality, now and in the future. Wherever possible sustainability finds its way into the innovation development of Clariant's products, processes or know how technology. Clariant is always keen to raise the bar in quality, leading-edge technology with environmental and health benefits.

All-in-one bleaching auxiliaries, ultra-low liquor ratio dyeing, brilliant acid dyes which bring a new color dimension in brightness, and efficient printing binders will be highlighted. Clariant's premium eco-care finishing which is setting a new benchmark when it comes to wrinkle-free finishes, will also feature at the booth. This is achieved with products improving fabric quality, cutting down production processes and generating benefits in water, energy and time savings.

Protection
Clariant provides technical textile solutions that apply to any sector, from military and emergency services to those working in extreme environments. Clariant will be demonstrating its advanced chemistry with new finishing and techtex products, including new fluorine-free water repellent agents, new flame retardant technologies as well as different coating systems. Beside end article protection, Clariant ensures that, during the various textile processes, protection takes place and specialty segments such as swimsuits get the required attention regarding chlorine fastness.

Performance
Clariant's new performance-enhancing products follow all the links in the textile chain, starting with spin finishes for different fibers, including recycled polyester, and chlorine-resistant optical brighteners. The multi-faceted range incorporates auxiliaries for package and beam dyeing, migration inhibitors for continuous dyeing, and disperses dyes with the highest wet fastness properties. Binders for soft prints, special low temperature printing concepts and a range of finishes including a new hydrophilic silicone micro-emulsion also feature.

…and Fashion
Clariant's knowhow and technology are designed to match the lifestyle of today's end consumer. Easier, faster, multi-tasking are current trends dominating our entire lives. Following this pattern, Clariant generates ideas and innovative effects and designs them into our everyday lives.For example through fiber enhancement or the creation of up-market cosmetotextiles for wellness and well-being. Not forgetting long lasting colors and creative effects achieved through printing. Let's get into new dimensions when fashion adopts and adapts the way of living.