Green Sweet styles by Gallic Traditions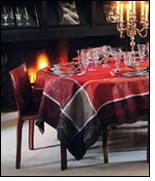 Gallic Traditions is pleased to announce that the innovative Garnier Thiebaut "Green Sweet" stain resistant tablecloths and spill proof linens are now available in their online store at website.

Inspired by plants that always look clean because dust and grime will not stick to their surfaces, the amazing Green Sweet technology wraps individual cotton fibers with a finish that makes them repel stains and resist abrasion. Relying on the most advanced Swiss chemistry, Clariant International developed the nanotechnology used to make the Green Sweet finish that Garnier Thiebaut applies on their home linens.

Nanoparticles create a bumpy structured surface on the fabric of a stain resistant tablecloth or other linen during the finishing process, which keeps liquids, solids or any kind of dirt from getting a grip on the fabric. The substances easily wipe off or brush away without leaving a stain. The Clariant International Swiss laboratories carefully test and control every model that uses the Green Sweet finish before issuing a certificate for it. Garnier Thiebaut has the exclusive world-wide license to apply the process for table linens.

The Green Sweet finish on linens makes them longer lasting as well as easy to care for, but the fabric looks and feels the same as untreated fine quality damask woven cloth. A double twisted thread jacquard weave also contributes to the cloth's durability. Wiping the linens off with a damp sponge or cloth will keep them clean and fresh, but machine washing and drying will not harm their protective function. Consumers can contribute to improving the environment by using products with Green Sweet technology because they need laundering less frequently, which saves water, power and detergent.

Green Sweet was first introduced at the 2010 international Maison & Objet Trade Fair in Paris, France, and Gallic Traditions' 2011 Spring/Summer collection. The 2011-12 Fall-Winter collection, just released, features many additional items treated with the Green Sweet spill proof finish. A complete catalog of the Green Sweet Styles can be seen in the attached PDF Document.

In addition to the Green Sweet products, the ecommerce site features high quality cookware like Fagor Pressure Cookers, Cristel Cookware, Bavarian glassware, French dishware, Belgian lace and tapestry, authentic European bed, bath, kitchen and table linens, French skin care and bath products and more. Each of the authentic, fine-quality European products reflects the importance of decorative and culinary arts, hospitality, friendship and excellence in the homes of France, Belgium and other ancient Gallic areas.

Jay and Kathryn Severance, owners of Gallic Traditions, formed the online company in 2004. They spent a number of years living and working in France, with frequent visits to Belgium, and they grew partial to the decorative arts and "art of the table" characteristic of the ancient Gallic regions. Upon returning to the US, they found that acquiring the genuine articles with their high quality and superior craftsmanship, which they enjoyed abroad, was difficult, even in large metropolitan cities.