A new venue for Textile Institute Design Means Business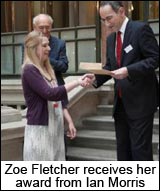 The recent Design Means Business exhibition moved to a new venue, Durbar Court which forms part of the Foreign and Commonwealth Office, which proved to be a great success for all concerned.

The muted colours of the marble background and the excellent natural lighting enabled design graduates from leading UK colleges to display their work to great advantage to invited company executives, designers and technologists; and for their tutors to develop links with guests from the textile, clothing and footwear industries.

Now well established as an annual event in the London graduate design calendar, The Textile Institute Design Means Business exhibition, was organised by the Design Special Interest Group (SIG) of The Textile Institute under the chairmanship of Professor Clare Johnston of the Royal College of Art. Its aim, in common with many end of year college and graduate shows, is to boost the career prospects of some very talented design graduates; but uniquely also to show what colleges can and are doing to promote design in the business environment and stablish links in a practical way between industry and education.

An additional aim this year arose from a collaboration with the Institute's Sustainability SIG under the chairmanship of Vanessa Knowles, senior partner, Pebble International. The students were encouraged to demonstrate how their designs were relevant to the broader issues of sustainable sourcing, production and distribution of textile and fashion products in the world today.

The exhibition was opened by Lord Haskel, a former world president of The Textile Institute, who takes a personal interest in assisting this event. He commented that holding it in the heart of Westminster gives an opportunity to textile companies and colleges to have constructive dialogue with members of the government. He introduced Lord Howell, Minister of State at the Foreign and Commonwealth Office who welcomed the colleges, graduates and guests to Durbar Court and observed with pleasure the buzz of excitement and colour they brought with them. The Institute's World President, Andreas Weber, added his welcome, noting the international nature of The Textile Institute and the varied background of the graduates.

To emphasise sustainability, a prize was awarded for the piece of work showing the best integration of the theme together with an understanding of what sustainability means. The team of judges, led by Sue Chorley of the Design SIG, included Vanessa Knowles, Katie Greenyer, creative director, Red or Dead (a Pentland brand) and Ian Morris, technical manager, Technical Services Group, Marks & Spencer.

The prize, a bursary to attend the World Conference of the TI in Malaysia in 2012, was awarded by Ian Morris on behalf of the judging panel to Zoe Fletcher of the London College of Fashion for a very well thought through entry. Zoe showed a very clear understanding of the importance of knowledge about the entire supply chain and had actually been to a sheep farm to shear a sheep to gain the complete experience.