'Let's work together and regain the lost glory of Indian textiles' – Varun Jiwrajka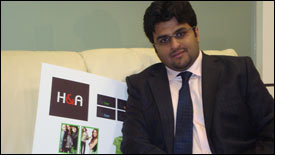 He is a diehard fan of football and its history. Yet to the mystery and amazement of his friends; he supports both - Manchester United and Liverpool. He doesn't know how; but he is a supporter of both the clubs - arch rivals in English football league and has mixed feelings, whenever each one of them wins and is a great fan of Beckham, Rooney, Gerrad and Michael Owen.

Alongside, he is also fanatic about cricket and Formula-1 car racing and is a huge fan of cricket maestros - Sachin Tendulkar and Saurav Ganguly. Being a moto-sports aficionado, he loves to keep himself abreast with new technology and the latest in cars.

He comes across as a fun-loving youngster, but someone who has his head firmly over his broad shoulders and loves to live life to the fullest. In our more than an hour-long meeting, he frequently broke into a smile and laughed heartily.

He is none other than the 26-year old Varun, one of the scions of the Jiwrajka family of Mumbai-based Alok Group which manages, perhaps the largest integrated textile company in India – Alok Industries Limited. The Group clocked revenues of around two billion dollars per annum last year from its various businesses, including the domestic and overseas retail business.

He studied at the Green Lawns School in Worli, Mumbai and completed his Bachelors of Science in Business Management from University of Southern California (USC), majoring in finance and entrepreneurship. He calls the beaches of Worli as his playground when young, as his school was located very close to a beach.

He has also done a certificate course in 'Family Managed Businesses" (FMB) from SP Jain Institute of Management. He is married to Kanika, who has done her BMS from NM College, Mumbai and also the certificate course in FMB from SP Jain, which is, where they met for the first time.

Varun is not a voracious reader, but counts the 'Bourne' series by fiction writer Robert Ludlum amongst his favourites. He also loves watching movies. When traveling overseas, he prefers to relax on a beach, rather than sightsee. He has traveled to most of the European countries, Australia, South Africa and the United States.

"We are very particular about business ethics. The biggest value that the Jiwrajka family adheres to is - 'Commitment'. No matter what, once a commitment is made, we strive to stick to the commitment", he says with pride. Among other values he imbibed from the family include, dedication to work and believing in oneself.

The biggest quality that he admires in his father and uncles is the skill to analyze and find solutions to problems quickly. He also attributes the stupendous growth of Alok to the calculated risks the family took in expanding. For example, over the past seven years, Alok has invested over Rs. 90 billion in setting up integrated facilities in cotton and polyester, something unprecedented, in the history of the global textiles industry.