New C.L.A.S.S. eco-textile developments will come to PV & ITMA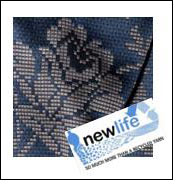 C.L.A.S.S. (Creative Lifestyle and Sustainable Synergy) has been proving its mettle since it started out over four years ago. A totally unique platform for showcasing the latest sustainable textile innovations the Global marketplace has to offer, C.L.A.S.S. is finally getting the recognition it deserves. From special sourcing projects with some of the world's leading luxury brands, to presenting new innovations for the first time, C.L.A.S.S. shows what's possible for future.

C.L.A.S.S first presented 'NEWLIFE', at Premiere Vision in 2010, a world first; this is a unique recycled polyester filament yarn, which uses a special high-tech production process. Engineered from post-consumer plastic bottles sourced, processed and spun solely in Italy, the Newlife polymer is created using a mechanical process that only uses a unique local supply chain.

With the ability to weave the yarn from as little as 33 Dtx right up to 2.000 Dtx, the applications for end-use and performances are vast with levels of quality equal to virgin polyester equivalents, but with considerable resource and cost savings for the environment. From fashion, sportswear, underwear, technical workwear right through to furnishing textiles Newlife is a new fibre innovation set to change the course of standard polyester as we know it.

The latest Newlife developments by C.L.A.S.S material partner Filature Miroglio will preview at Premiere Vision in Paris from 20th to 22nd September, and will include some of the first generation blends and super soft qualities featuring the branded 'Newlife' yarns. Newlife has grown from an ambitious product platform to a range of new fabrics realized by fabric producers such as: Boselli E. & C. S.p.A., Gruppo Cinque S.r.l., Frizza S.p.A., Serates S.r.l., Tessitura Corti S.r.l., Tessitura Oreste Mariani S.p.A., Tessitura Virgilio Taiana S.p.A. Stand: 5 E1.

On September 21st, Newlife will represent the ultimate in responsible innovation 100% Made in Italy at the World Textile Summit in Barcelona. From 22nd to 29th September it will be at ITMA, International Exhibition of Textile Machinery's new chapter on fibers and yarns. Stand: H4 A138.

One of C.L.A.S.S's newest material partners is Cardato with its Regenerated CO2 neutral concept. Designed to offer fabrics that are comfortable to wear and which respect the environment, over 23 companies have joined together in this initiative. Using mixed textile waste as well as off cuts from factories, the textiles are selected for their fibre type and colour and then reworked to create new and high end textiles. Fabric and yarn producers such as: Industria Tessuti Pratesi Spa, Lanificio Balli S.p.A., Manifattura Del Prato S.r.l., G.M.G. Filati Stock Service S.r.l. have already introduced Cardato regenerated co2 neutral in their collections.

Working together in the same region of Prato, this inspiring group of mills and weavers has received a special accolade andcertification from the Prato Chamber of Commerce for the resulting products, for their zero emissions. Since the start of the project over 3516 tonnes of CO2 have been compensated for.