ITMA opens with extensive showcase of latest technology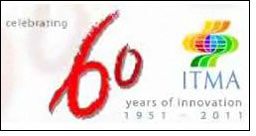 The 16th edition of ITMA, the world's most established textile and garment machinery technology exhibition opened today in Barcelona, Spain. Marking 60 years since its first show in 1951, ITMA 2011 features the entire textile and garment making valuechain, including fibre and yarn which will be showcased for the very first time.

ITMA 2011 is held until 29 September at the Fira de Barcelona Gran Via venue. ITMA show owner CEMATEX, the European Committee of Textile Machinery Manufacturers, and organiser MP International, have introduced several new and innovative offerings tailored to suit the changing needs of the global industry.

Speaking at the opening press conference, Mr Stephen Combes, President of CEMATEX said, "Innovation has been the key factor for ITMA's success. With each edition, our members and exhibitors have continued to push the limits of technological advances and industry knowledge. We are confident that all participants will benefit from the knowledge exchange over the next eight days."

True to the theme for its 60th anniversary – Master the Art of Innovation – ITMA 2011 has also partnered with some of the most important industry associations and groups, and introduced an exciting line up of informative educational events to keep participants up to date on the latest trends.

These collaborative events include the World Textile Summit, Sustainable Textile Leaders Roundtable, Textile Dyestuff and Chemical Leaders Forum, IFAI Advanced Textiles Europe 2011, and the Young Entrepreneurs of Textile International Meeting.

Designed to cater to specific industries and sectors, the response for these events, clustered under 'Conferences @ ITMA 2011', has been positive. Said Ms Sylvia Phua, Chief Executive Officer of MP International, "Working closely with CEMATEX, we have introduced events that will create greater value to both exhibitors' and visitors' participation.

Besides being a sourcing platform, we have added education and networking elements to ITMA, which are important features in any trade show. The response has been very encouraging and we hope the sharing of knowledge generated helps to spur more companies forward in this globalised climate."

Research and education is another major emphasis for this 16th edition of ITMA. As part of the move by CEMATEX to focus on the sustainable development of the textile and garment industry, the Research & Education (R&E) Pavilion presents leading edge textile materials and technology research from established institutes of learning.

Over 47 universities and institutes from 20 countries will take part in the R & E Pavilion; highlights include the European Textile Research and Education Pavilion led by AUTEX, EURATEX and TEXTRANET, and the Speakers' Platform, where participants will present their latest research findings.

Despite a challenging global economic climate, ITMA 2011 has attracted 1,350 exhibitors from 45 countries and economies to take part in the show. Net exhibition space totals 90,240 sqm, with exhibitors from CEMATEX countries taking up 62,550 square metres, or over 69 per cent of the net exhibit space.