Techtextil India offers market understanding & advice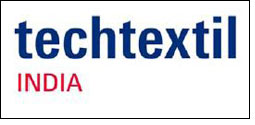 Techtextil India, India's leading show for technical textiles and nonwovens, opens from 10 –12 October 2011 in Hall 5 at the Bombay Exhibition Centre in Mumbai. The three-day exhibition and its concurrent two-day symposium will provide comprehensive market intelligence which will help to drive the future of India's technical textile market.

This year, Techtextil India has again received a strong exhibitor response with country participation from Japan, Korea, Holland, China, UK, France, Belgium, Germany, UAE, Sweden, USA, as well as leading Indian companies such as SRF, Garware, Lindauer Dornier, Indorama Polyester, Oelikon, Karl Mayer, MEP Olbo, Dilo, Teijin India Pvt Ltd, Waxman Fibres, ATE, Khosla Profil, Ajanta Universal and Raman Science Fibres.

Altogether there will be 115 exhibitors from 12 countries showcasing their textile products on 6,000 sqm. For efficient sourcing the exhibition floor has been categorised into the product groups of machinery, raw material, fabric manufacturers and related accessories.

Symposium offers market understanding and advice Running concurrently with the show, the Techtextil India Symposium 2011 will address the needs of India's technical textile industry by assisting companies wanting to enter this segment or those wanting to increase their existing presence in the market.

Commenting on the symposium, Dr Nick Butler, Editor of Technical Textiles International, states: "The Techtextil India Symposium programme is built on experience gained from five highly successful symposia, called 'How to Enter Technical Textiles Markets'. These events have been organised in Europe by International Newsletters to help companies understand the technical textile market and to give them practical advice on how to best exploit the tremendous opportunities that are now available."

He added: "With the local expertise of our co-organisers, Messe Frankfurt India and BCH India, the symposium will also offer specific insights into one of today's most exciting regions for technical textiles, both in terms of production and potential consumption."

Apart from providing cloth, one of life's basic necessities, the textile industry contributes about 14% to India's industrial output and around 17% to export earnings. After agriculture, the Indian textile industry provides employment for 35 million people with another 50 million people working in associated activities. India is also the largest producer of jute, the second largest producer of silk, the third largest producer of cotton and cellulosic fibre/yarn and the fifth largest producer of synthetic fibres/yarn.

The Indian technical textiles industry is projected to grow to Rs 1.4 trillion (USD 31.4 billion) by 2016-17, with healthcare and infrastructure sectors accounting for a major chunk of the consumption, according to a recently released research paper.

Currently, the technical textiles industry market was estimated at Rs 570 billion (USD12.67 billion) in 2010-11 (source: FICCI). Currently, the industry is undergoing a major re-orientation towards non-clothing applications of textiles such as thermal protection and blood-absorbing materials, seatbelts, adhesive tape, and other specialised products and applications. Furthermore, with the phasing out of the Multi-Fibre Arrangement (MFA), the Indian textile industry is optimistic due to new investment and various government initiatives.