ITMA a successful event for Rieter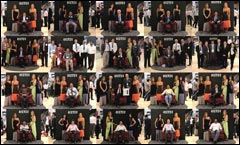 During the 8-day exhibition Rieter delighted its customers at the ITMA Barcelona with many novelties and highlights. The 4 spinning systems were presented in direct comparison. This enabled exhibition visitors to become familiarized with the advantages of the individual technologies and their respective yarns from the qualitative and economical aspects.

High-ranking visitors such as the winner of the competition "The oldest Rieter spinning machine", the Swiss Ambassador, the winners of this year's Rieter Award as well as partners from our main markets were hosted on the Rieter exhibition booth. The sales success experienced during the exhibition served to strengthen Rieter's perception of how well the machines have been received by customers.

The Comfort of Competence
As a competent partner, Rieter makes life easier for its customers and supports them from the initial investment discussions through to the successful operation of a spinning plant. Extensive knowledge from the fiber to the yarn and further to the finished textile are the foundations for the development of innovative machines that provide a constantly high yarn quality. All this lies behind the new slogan "The Comfort of Competence" that Rieter launched at the ITMA.

In the comfortable armchair, known from the advertizing campaign for the new slogan, visitors could recline cozily and have an original souvenir photo taken.

4 Spinning systems from a single source
Rieter, the only supplier of all 4 spinning systems, proved at the ITMA Barcelona its competence to advise every customer on the choice of the right spinning system. Customers profit from economical comprehensive solutions and thereby from sustainable market success.

The new J 20 air-jet spinning machine and the R 60 rotor spinning machine, the K 45 compact spinning machine and the new C 70 card were the product highlights on the exhibition booth. The ring spinning system could be seen on the Rieter PTC (Premium Textile Components) stand. Customers were therefore able to gain a good overall impression of the innovations from Rieter.

Sustainable quality - the oldest Rieter spinning machine
It was a great pleasure for Rieter to be visited by the winner of the competition "The oldest Rieter spinning machine" – the company FLAWA AG from Switzerland. FLAWA AG is still operating a 1940 Rieter bale breaker – clear evidence of the sustainable quality of products from Rieter.

Rieter Award
Young people from the textile industry are promoted by Rieter. The Rieter Award supports textile training and encourages talented young professionals. The Award creates a global network between students, universities, institutes and Rieter. 6 students from China, India, Turkey, Vietnam, Pakistan and Belarus spent an eventful Rieter Award week in Barcelona, visited the ITMA and held interesting discussions with the Rieter experts.