Fight for seed cotton still exists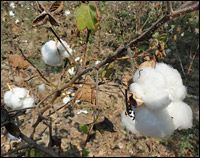 In the last ten days it seems that our crop has been drawing much attention. In the beginning it was few international merchants that bought from selected ginners at basis of even to 100 on Dec 11 for HVI 41 or equivalent fix price with early shipments.

Later on, couple of major Turkish spinners, before the NY future's correction, bought at levels of 225 usc/kgs FOT. In addition, small volumes that can be described as "opportunistic business" were sold at levels lower than 1 usd/lb FOT with immediate payment and shipment. Today there are also some spinners who are trying to buy at prices of 220-225 usc/kgs FOT but without success.

The increased cost of production for one more season is not leaving room for more attractive offers. The 'fight' for seed cotton still exists although there are signs that this season due to the financial crisis in Greece and without the support of banks will not be so easy for ginners to follow these price games.

The yields on the fields are satisfactory but not ideal. The good thing is that qualities so far are promising. Even the first rain touched cotton is ranging at HVI 41 while all other specs are very good. During the weekend the weather forecast shows some regional rains and during next week only sunny days. Therefore in the coming week we will have a more clear view of this season's after rain quality.



Thrakika Ekkokistiria S.A.