Oerlikon continues strong profitable sales growth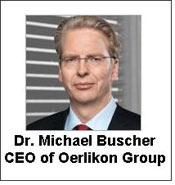 Oerlikon Group posted a strong increase in sales in the first nine months of 2011 on double-digit sales growth across four Segments. All regions delivered sales growth, primarily driven by significant increases in Asia. Although order intake was stable year-on-year, certain Segments showed robust order growth. Streamlining of the Group's portfolio continued in the third quarter with the closing of the Carding divestment.

Dr. Michael Buscher, CEO of Oerlikon Group, said: "Oerlikon's nine-month performance reflects disciplined execution of our strategy. We are benefiting from the systematic implementation of our operational excellence initiatives, with an increasingly efficient conversion from orders to sales. The growth in sales is also based on our high emerging market penetration and our strong innovation pipeline." Oerlikon Group CFO Jürg Fedier said: "We continue to see improvements in our underlying performance and profitability. As a result, we are raising our profitability guidance."

The global economic environment remains uncertain but with Oerlikon's broad portfolio mix and operational discipline, the Group is now better positioned to tackle challenges and to achieve its financial targets. Oerlikon is confirming its previous sales and order intake guidance and increasing its profitability guidance for the full year. EBIT margin is now expected to exceed 9 percent for 2011.

Group Overview:-
Segments maintain high order intake level
Oerlikon launched more than ten new product platforms in the first nine months of 2011. Although order intake was stable year-on-year, certain Segments demonstrated strength, particularly Coating, which saw a significant 19 percent increase in orders, and Drive Systems with a 12 percent increase. Group order backlog grew 7 percent year-on-year, underpinned by Textile's solid backlog and a particularly strong 45 percent increase at Drive Systems.

Oerlikon's broad portfolio mix, new products, as well as the Group's increased presence in high growth regions - with more than 150 sites around the globe - are contributing to this order intake following the high demand in 2010. The Group continued to invest consistently in R&D in the first nine months, with R&D spend reaching CHF 159 million, representing 5 percent of sales, compared to CHF 174 million reached in the previous-year.

Broad-based sales growth across Segments and regions
Sales rose by a healthy 24 percent year-on-year based on strong and increasingly efficient sales conversion within the Group. Four Segments delivered double-digit sales growth, led by Textile which saw the strongest sales growth at 34 percent, followed by Coating, up 19 percent, while Drive Systems improved by 12 percent. Sales grew in all regions, led by Asia, up 41 percent, Europe, up 14 percent, North America, up 7 percent, with "other regions" rising 16 percent.

Normalized for currency impact, theincrease in nine-month sales would have been 42 percent, reaching CHF 3 508 million. Overall, sales in Asia accounted for the largest share of Group sales, rising to 48 percent of total sales in the first nine months (2010: 43 percent), with Europe accounting for 29 percent (2010: 32 percent), and North America 14 percent (2010: 17 percent).