Unifi Q3 sales marginally down from previous quarter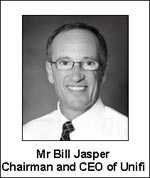 Unifi Inc. released preliminary operating results for its first quarter ended September 25, 2011.

Net sales for the September quarter were $171 million, a decrease from $175 million, or 2 percent, from the September 2010 quarter. Net income for the September 2011 quarter was $286 thousand, a decrease from $10.2 million in the September 2010 quarter, and earnings per basic share decreased to $0.01 from $0.51 in the September 2010 quarter.

Demand for the Company's domestically produced polyester and nylon products softened during the quarter as apparel companies delayed purchases ahead of the holiday selling season in order to manage inventory levels. On a global basis, prices for the Company's primary raw materials remained near their 30-year highs for the second consecutive quarter and in our Brazilian operation, the strength of the Real created a challenging operating environment for local production.

Adjusted earnings before interest, taxes, depreciation and amortization (adjusted EBITDA) for the September 2011 quarter were $8.1 million compared to $18.4 million in the September 2010 quarter.

"We believe raw materials prices reached their peak levels during the quarter, as a result of unplanned outages of feedstock production during a period of tight supply across the polyester supply chain," said Bill Jasper, Chairman and CEO of Unifi. "We expect these prices to decline over the next few quarters, as the supply issues correct themselves and new capacity begins to come online. We also expect the destocking of the retail supply chain inventory to be completed by the end of the Company's third fiscal quarter, with volume improvements beginning after the first of the calendar year."

Cash-on-hand as of September 25, 2011 was $19.8 million and borrowings under our revolving credit facility were $39.9 million. During the quarter, the Company redeemed $10 million of its 11.5% Senior Secured Notes due 2014, and as of September 25, 2011, $123.7 million of senior secured notes remained outstanding.

"Interest expense in the September 2011 quarter was $900 thousand lower than the prior year quarter, which is a result of the progress we are making in our deleveraging strategy," said Ron Smith, Chief Financial Officer of Unifi. "Since June 30, 2010, the Company has retired $55 million in principal amount of our 2014 notes and we plan to continue utilizing excess operating cash and borrowings under the revolver to redeem additional amounts of these notes."

Jasper added, "The Company had anticipated a decline in adjusted EBITDA in the quarter based on cost variances related to raw material supply issues in the prior quarter and the business environment in Brazil. These expected issues, combined with the higher than anticipated raw materials prices and lower capacity utilization resulted in lower adjusted EBITDA levels in the quarter. Going forward, we remain positive about the state of ourunderlying business.