New TexjetPLUS Direct to Garment printer from Polyprint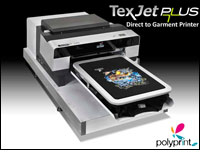 Polyprint announces the release of the new TexjetPLUS Direct to Garment digital printer, the successor of the Texjet printer which has been a best seller in the market since 2006.

The TexjetPLUS will offer the same well known high quality and long term reliability plus a number of new improved characteristics, such as increased printing speed by 20%, improved White ink performance due to pressurized ink cartridge system, while maintaining the same big printable size (42x60cm).

Another plus is the reduced printer's price which now makes it even more affordable to custom t-shirt printers.

POLYPRINT S.A. is a family run business specialized in solutions for Digital Textile Printing. Based in Thessaloniki, Greece, an area with long history in the field of textile printing, home to numerous t-shirt printing companies, most of them experts in high fashion t-shirt printing.

POLYPRINT S.A.