'EBIDTA very important to achieve sustainability of business' – Dinesh, Nitin Spinners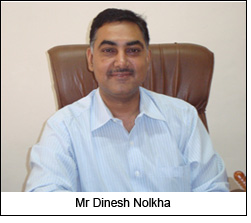 He is a chartered accountant as well as cost accountant by profession, but chose to follow in the footsteps of his illustrious father, who is a renowned and well-known textile technocrat.

He is Mr Dinesh Nolkha, the young Managing Director of a textile company – Nitin Spinners Ltd., located in Bhilwara, Rajasthan. He laid the foundation in 1992 of what is now a Rs 4.1 billion enterprise, 70 percent of which is accounted for by exports and has clocked a CAGR of around 20 percent.

He is the eldest son of Mr RL Nolkha – Chairman of Nitin Spinners, who earlier was Managing Director of BSL Limited – the flagship company of the LNJ Bhilwara Group.

He has been a topper beginning from his schooling years. In his 12th std exams, he stood first in one of the two zones in Rajasthan. He was a merit holder in his chartered accountancy exams and stood fourth across India in the cost accountancy exams.

Dinesh loves to travel a lot with family and friends. He was a voracious reader in his school and college days and also pursued table tennis and cricket. His favourite author is Shiv Khera since he loves to read motivational books.

His younger sibling – Nitin helps him with the operations and management of the textile business. He is married to Krishna and they have two children, son Pratyush who is 13 and daughter Ananya aged 6.

Though he was born with a silver spoon in the mouth, his parents always taught him to keep his feet firmly on the ground and be humble to all and one. The second biggest value that they taught him was to stick to his commitments through thick and thin.

The most important quality that he admires in his father is his ability to connect with people, whether professionally or socially and is trying hard to imbibe this admirable quality. He also holds the senior Nolkha in high esteem for his ability to analyse problems and find solutions at lightening speed.

He also appreciates the knack of his father in reaching out to people, without the request being put in. Giving an example, Dinesh says that Nitin Spinners with a workforce of nearly 1,500 workers still does not have a trade union. He gives due credit to his father for the same.

The main reason for this is that - workers wages are increased without them demanding the same and when food inflation had touched an all time high last year, Nitin Spinners increased the wages of the workers, although it was still not due.

With his background in accounting, number crunching comes easy to Dinesh. His cost accountancy skills come to the fore when he works out the costing for a particular count of yarn, and quotes the same to a foreign buyer, in the space of just a minute, his fingers flying fast over the calculator.

Dinesh has been mentored mainly by his father and got his training at Bhilwara Spinners under the tutelage of another renowned textile expert - Mr RN Gupta, Ex-CEO of Bhilwara Spinners who taught him the technical nuances of spinning.