'2010 was 'Year of Warp Knitting' - Mr Shewale, A.T.E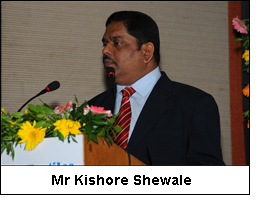 "2010 can rightly be called the 'Year of warp knitting' as demand for warp knitting machines continued to grow from the beginning of 2010 due to huge consumption for warp knitted fabrics in domestic market", revealed a top official of A.T.E Enterprises.

One more informative session which caught the attention of the stakeholders and industry leaders of the textile sector at the recently concluded 'International Conference on Manmade Fibre Textiles' held in Ahmedabad, was the presentation by Mr Kishore Shewale who spoke on 'Warp Knitting Technology for Innovative Textile Applications'.

Mr Shewale is currently the Product Head - Warp Knitting with A.T.E. Enterprises Private Limited and is responsible for Karl Mayer business in India.

Giving details about the technology he said, "Warp knitting is by far the most versatile and a high productive fabric production system in textile industry. Although this industry is present in India since many decades, it is not widely known or popular like other fabric forming processes such as weaving and circular knitting.

"Warp knitted fabrics can be produced in various structures such as rigid and elastic, open or closely knit structures, in flat or tubular or also in 3 dimensional form. The fabric widths can go up to 6.6 meters or even in multiple of this width if it is a net structure. Warp knitted fabrics are often mistaken as woven or circular knitted fabrics though there is a distinct difference in the fabric structure and characteristics.

"Warp knitting machines are mainly classified in two sections or groups – Tricot and Raschel. Basic knitting elements on the Tricot machines are guides, needle, tongues and compound sinker and those on the Raschel machines are guides, needles, tongues, stitch comb bar and knock over comb or trick plate.

"The complete knitting cycle due to one revolution of main shaft or 1 rpm of the machine, which forms a loop in vertical direction, which is known as 'Course' – similar to pick in woven fabric can be divided in to four different movements of guide bar, swing –in, overlap, swing–out and underlap".

Providing an overview of the warp knitting industry, he informed, "Indian warp knitting industry is scattered in different pockets like Mumbai, Surat, Delhi, Ludhiana and Amritsar mainly producing 2 bar and 3 bar tricot fabrics. The main application areas are ladies dress material and saree, lingerie and outerwear, furnishing fabrics, shoe fabrics, automotive fabrics, agrotextiles and interlinings.

"Till 2009, the major market in India was for used machines, imported from Europe, USA, Korea and Taiwan. Due to steep competition with Chinese manufacturers dumping cheap goods in India, the investment in new machines was not favorable.

"The sluggish market trend started to change suddenly by end of 2009 and the business started getting fresh enquiries for new machines from existing players as well as new entrants and mainly due to non-availability of used machines worldwide at reasonable prices further helped new machinery business.