'ITMA 2011 surpasses our highest expectations' - Terrot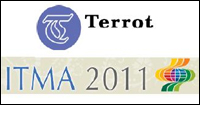 The international textile and garment machinery industry opened its doors for the 16th edition of ITMA, the world's most established textile and garment machinery technology exhibition in Barcelona, Spain from 22nd to 29th of September. 1.350 exhibitors from 45 countries presented their latest products and innovative solutions at ITMA 2011. 60 years after its first show in 1951, ITMA 2011 featured exhibits from the entire textile and garment making value-chain spread over 200.000 square metres of total exhibition space.

This was the slogan under which Terrot presented itself at the leading textile and garment machinery fair ITMA.

Andreas von Bismarck, Managing Partner of Terrot: "ITMA 2011 has surpassed our highest expectations. The presented exhibition machines corresponded in the best way to the actually market requirements and the present customer demands."

At the ITMA Barcelona Terrot presented itself with six innovative new and also further developed circular knitting machines out of the current product range.

• S296-2 Open Width D-Frame, 30" E50
The S296-2 offers outstanding flexibility and efficiency in the production of different stitch structures with up to 4 needle tracks. Its ideal distribution of 102 feeds over 32" diameter is proven in practical day-to-day operation.
• SCC6F548, 30" E36
Striper Technology in Single-Jersey has already a very long tradition at Terrot - up to 6 colours stripping in addition with the combination of 3-Way-Technique and the new development fine gauge E36 opens new trends in fashion.
• UCC572, 30" E40
The stringent standard of quality and reliability of Terrot machines achieve its culmination with its Jacquard machine series. The ceramic PIEZO selection elements form the electronic-mechanic interface which reliably implements the knitting information even with extremely fine machine gauge at high speeds.
• UCC572T, 34" E16
The production of transfer fabrics on the latest developed Electronic-Jacquard machine UCC572-T offers highest production output at utmost efficiency.
• UP592M, 38" E20
Our latest developed Mini-Jacquard model UP592M stands out by its appliance in the cost-efficient production of Mini-Jacquard mattress ticking. The combination of a high number of feeders and machine speed allows a never before achieved production output.
• I3P284-1, 30" E40
This latest development of the 8-lock model I3P284-1 in fine gauges E40 – E50 offers a wider range in knitting structures thus rib and Interlock stitch formations can be combined to new fabric structures.

Terrot circular knitting machines are especially developed with respect to the market demands energy efficiency and performance. For example the exhibition machines show an increase in efficiency up to 50%. Detailed information on the exhibits and on our innovation you will find in the information brochure enclosed as wellas in the leaflet.