Aachen Textile Conference provides versatile programs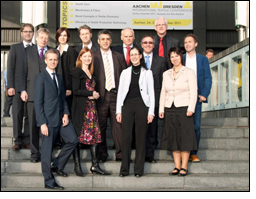 Being in Aachen or Dresden at the end of November is already a fixed point in the calendar of textile experts from materials & finishing and machinery & processes.

The 5th Aachen-Dresden International Textile Conference in Aachen on November 24 and 25 provided a dense and versatile programme to the 500 participants – 20 % of which were international guests from 25 different countries: plenary lectures, 46 technical papers, more than 80 poster contributions, four excursions to textile companies, and a special presentation of this year's partner countries Australia and New Zealand.

Under the heading "Topics – Markets – Chances", the plenary session was a starting point for reflecting and discussing markets, changing environments, socio-political developments and visions for the textile and apparel industry. Nicola Watkinson and Marcus Scoliège as the representatives of the 2011 partner countries reported on possible research and business co-operations with Australia and New Zealand.

Speakers of both countries talked about the recycling of textile waste, textiles in medical technology and new areas of application for wool and the plasma treatment of textiles. Austrade, the Australian Trade Commission, organized a round table business lunch with speakers and more experts in order to foster networking and future co-operations.

Highlight of the plenary session was the lecture of the internationally renowned designer Werner Aisslinger from Berlin. His projects "hemp chair" and "mesh" are examples of how material innovation and new production technologies inspire the design of furniture and many other products. Aisslinger impressively demonstrated that from the communication of the developers and users of new materials innovative products may arise and new markets can open up.

Four symposia with altogether 46 lectures were dedicated to the topics Health Care, Membranes and Filters, Novel Concepts in Textile Chemistry, and Efficiency in Textile Production Technology. Within the Health Care symposium different concepts for the antimicrobial finishing of textiles were presented.

A main focus was on the functionalization of textile materials for biomedical applications. The spectrum of lectures ranged from textile implants to substrates for stem cell cultivation, neurostimulation leads for the growth of nerve cells, and wound coverings.

Functionalization and surface modification was at the center of interest in the symposium on Novel Concepts in Textile Chemistry. A coating with suitable particles helps reducing the emission of fabrics, membranes and foils which are used, e.g., as sun protective elements. Conductive polymers are coated onto self-luminescent textiles or textile heating elements. Special colour effects are generated on textiles by using nanoparticles and pigments.

Especially in the textile finishing the nanotechnology plays a major role. While the initial nano-hype was followed by critical comments and a great uncertainty of the consumers, many safety questions were solved during the last few years.