OEKO-TEX: ITMA - Successful showcase for all concerned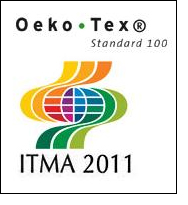 With over 100,000 visitors from 138 different countries, the 16th ITMA exhibition, held in Barcelona from 22 to 29 September 2011, once again impressively confirmed the show's role as the leading international trade fair for innovative machine and production technology.

The organisers and exhibitors were all delighted with the calibre and number of specialist visitors, 90% of whom came from abroad. The OEKO-TEX Association also believes that it entirely met its objective of using its attendance at leading industry events such as ITMA to provide the best possible advice and support on OEKO-TEX certification to both existing certificate-holders and potential new customers.

At the exhibition in Barcelona, in an area covering over 200,000 m2, 1350 manufacturers from 45 countries introduced their product innovations for all processing stages of the textile chain. The most visitors came from Italy, Spain and India, followed by Germany and Turkey, but there were also numerous decision-makers from leading textile and clothing manufacturers from around the globe, from the production centres of Asia and Central and South America.

This time once again a key focus of the show was the theme of sustainability - many exhibitors had innovative machines and equipment on show designed to make textile production really low-energy and as efficient as possible. There was also a separate hall in which new technologies for recycling, optimised waste management and emissions reduction were on display.

On the OEKO-TEX Association stand, there were no fewer than 36 experts from 14 OEKO-TEX institutions around the world (test institutes, representative offices, certification centres and the Secretariat in Zurich) available to provide the specialist visitors with detailed information. About a third of the visitors were from companies which already hold OEKO-TEX certificates, who took the opportunity to talk to their OEKO-TEX contacts about current issues such as the REACh legislation and handling SVHC substances, the OEKO-TEX Shopping Guide and the implementation of new criteria and test methods.

However, the majority of the visitors to the stand were first contacts - mainly manufacturers with a specific interest in product certification under the OEKO-TEX Standard 100, but also numerous multipliers from universities, training institutions and associations, and press representatives from all kinds of specialist publications who wanted to tell their readers about the requirements and benefits of the OEKO-TEX test and certification system.

Thanks to the position of the OEKO-TEX stand in Hall 4, there were also opportunities to talk to the neighbouring manufacturers of dyes, chemicals and auxiliaries about how today's environmental protection requirements and legal regulations can be applied by companies in the chemical industry in such a way that buyers in the textile industry can gain maximum benefit from them for their consumer products.