DuPont Sorona launched for the Indian Textile Market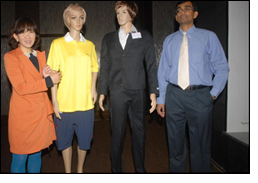 DuPont Sorona renewably sourced fiber for the Indian textile market addresses the four principal segments of dynamic fit denim, permanent flex woven, easy stretch woven, and ultra soft knits.

DuPont Sorona continues to develop partners throughout the value chain to bring new offerings and products for a wide variety of end uses to market and is organizing seminars in New Delhi and Bangalore this week to focus on applications developed by Indian mills / textiles companies.

Specifically, at these two shows, partner mills that will feature Sorona based products include Arvind, Raymond UCO, KG Denim, Vardhman, Banswara Syntex, Suditi, Raymond Zambaiti, Precot Meridian, and JCT. Some of the initial developments from select Surat mills working on Sarees and Ladies Wear material segments will also be on display.

"New applications, fabrics and end uses that feature Sorona continue to be developed through our network of fiber and fabric manufacturers. The key to this new development is partners dedicated to working with fibers that can produce high-quality garments while reducing the impact that textiles have on the environment," said Gowri Nagarajan, business leader, Industrial Biosciences, DuPont India. "Sorona's versatility and flexibility allow it to be extruded into a variety of fibers suitable for a broad range of end uses," he added.

DuPont Sorona renewably sourced fiber continues DuPont's legacy in fiber and fabric innovation. These new applications continue to highlight the unique combination of performance attributes and environmental benefits that Sorona provides.

When used in dynamic fit denim and easy stretch woven, Sorona provides denim and woven fabric consumers with comfort stretch that lasts a lifetime with the exceptional softness next to the skin with a natural feel. Since these important fabric attributes are incorporated into Sorona at the time of manufacture, these features remain for the lifetime of the fabric.

For the intimate apparel segment, ultra soft knits, Sorona provides a valuable combination of benefits including luxurious softness, flattering drape and easy care. When blended with other natural and synthetic fibers, Sorona adapts to enhance their performance.

Sorona blends easily with natural fibers including cotton. Spandex, nylon, and other synthetic fibers also are able to be combined with Sorona for an almost endless limit to fabric development.

For the permanent flex woven segment, Sorona offers exceptional crease resistance coupled with a softness that makes it comfortable for Jacket wear launched in other regions of the Asia under the "Shape Memory" fabric concept.

Once again, these features stay for the lifetime of the fabric and consumers will benefit from the feel of a brand new appeal in the fabric every time they go to wear the garment.

All end uses benefit from the environmental benefits provided by Sorona. By replacing a traditionally petrochemical-based ingredient with one made from annually renewable feedstocks, Sorona helps reduce dependence on fossil fuels and petrochemicals.