Follow Chinese example, Jatin tells textile leaders of his ilk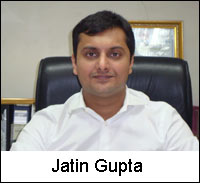 He hails from the third generation of a family into the textiles business since the last 45 years and is responsible for exports skyrocketing growing ten-fold in the last 5-6 years. One of the companies in the group is the fourth largest producer of polyester yarns in India producing more than 1,10,000 tons per annum from polyester chips.

Meet Jatin Gupta, scion of the Gupta family – Surat, whose group turnover is in excess of Rs 11 billion or US $250 million. Jatin aged 30, studied at St Xaviers School in Surat and completed his under-graduation and post-graduation in business management from University of Hertfordshire, UK, majoring in finance and accounts.

Jatin stays in Mumbai and shuttles regularly between Mumbai – the corporate headquarters and Surat, where the major manufacturing activities of the textile group are concentrated.

When in school, Jatin used to be a sports freak and loved roller skating, playing table tennis, lawn tennis and badminton and still pursues these activities, whenever time permits. He has also won many medals in roller skating and participated at the national level. Though not a voracious reader, he found very interesting, a book - 'You Can Win' by management guru, Shiv Khera.

Jatin is one of those few second or third generation of textile leaders, who is in regular touch with Indian and overseas friends on facebook. He thanks Blackberry, which makes access possible any time of the day or night. He chats and sends messages, while on his way to office from home and or on the way back or while traveling between Mumbai and Surat.

Though not a technology freak, to an extent, he aspires to have the latest gadgets, and loves to explore functionalities of the gadgets.

When growing up, he says, "I was brought up in a religious & close knit joint family. We had a very humble upbringing and led a down-to-earth and low-profile lifestyle and the children were taught to be fair in their dealings with one and all".

Jatin considers his father – Mr Prakash Gupta, as a visionary and a risk taker, who was one of the first in Surat to begin upgrading textile machineries in their various plants as well as, also began textile exports when there were just a few around in Surat. A pointer to that is that their company is a continuous SRTEPC export award winner since the last ten years.

He considers his father also as a fast decision taker and would like to emulate the same. Mr Prakash Gupta takes cares of the finance and accounts department of the various Gupta group companies. "My father is of the opinion that it is easy to earn money but twice as difficult to earn respect from everyone around, so be fair in your dealings", says Jatin.

Though hailing from a traditional business family, discussions on business is a taboo at the Gupta dinner table, now and even when they were staying in a joint family. Jatin says, "We like to keep a clear distinction between business and personal lives".