A closer look of KARL MAYER's machines at its Academy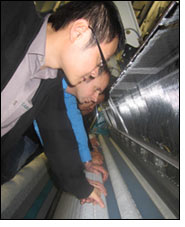 KARL MAYER's customers not only benefit from its high-tech machines, the company's know-how and expertise can also give them the edge over their competitors.

Companies can win leading market positions and tap into new applications using efficient high-speed tricot machines and raschel machines, and the opportunities offered by the KARL MAYER Academy to learn more about them are available to textile manufacturers worldwide.

The company's Training Centre runs its own training programmes at the company's headquarters in Obertshausen and at its subsidiary in Changzhou. The instructors at both locations work closely with each other, and this enables them to take into account the special regional requirements of customers on the company's main markets.

Just recently, in the autumn, a comprehensive training programme was held at KARL MAYER (China) Ltd., which was attended by the product developer, Stefan Gross and the instructor, Stephan Jung. These two specialists travelled from Germany to hold a series of courses on the RSJ range of machines and the RD 7 EL double-bar raschel machine.

The courses on the RSJ machine were held from 17 to 26 October at the KARL MAYER Academy in Changzhou. The programme consisted of three training courses, each lasting three days, and providing information at different levels of detail.

There were between six and eight participants on each training course. The course mainly attracted designers who had already had experience with using the RSJ machines. The aim of the course was to provide them with the necessary expertise to develop more intricate patterns, to open up untapped markets, and to enable them to optimise the potential of the versatile RSJ machines.

Standard articles, such as Powernet, can be produced on the majority of machines currently available on the market, but the options can be extended by working new, more sophisticated designs. The possibilities of producing more fashionable articles, such as lightweight Spotnet fabrics with attractive, lace-like patterns and functional lingerie fabrics with body-shaping zones should guarantee long-term capital utilization and good business – concepts that newcomers to this sector are also finding particularly attractive.

As well as companies who had already had some experience of the machines, companies who were beginning to take a general interest in the RSJ machines also registered for the course at the KARL MAYER Academy in Changzhou.

Basically, the course involved presenting the range of machines and highlighting the differences between the various models, explaining the jacquard principles, and developing basic lapping and design parameters based on these principles. The experienced pattern developers were particularly interested in the performance features of the software and its latest upgrade.

"High-end designs can be developed much easier and quicker using the latest functions. The edges of the motifs in particular have an incredibly smooth appearance," said one of the course participants enthusiastically.