Wesley Mancini Rug Collection launched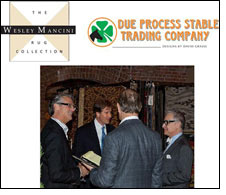 Wesley Mancini, Ltd., in partnership with Due Process Stable Trading Co., officially unveiled a selection of their new rug design offerings to members of the home furnishings industry at the bi-annual ITMA Showtime Market in High Point, NC on Tuesday, December 6.

With this most recent partnership, Due Process continues its trend to innovate and expand by becoming the first rug company to be accepted into the International Textile Market Association.

Membership with the ITMA will allow Due Process to bring the company's experience and product offerings to a new range of related industries which have never previously included floor coverings in their design catalogs or sales strategies, and help turn area rugs into an integral part of their overall business.

According to David Grasse, President of Due Process, "This partnership is an incredible opportunity for us and our clients. The rug industry is becoming increasingly driven by fashion."

"With fabrics at the forefront of the latest fashion trends, we are excited to be the first and only rug manufacturer to bridge the gap between these two industries in order to bring such desirable designs and patterns from Wesley Mancini to our rug offerings."

The Wesley Mancini Rug Collection was showcased during a launch party on the third night of the market. Guests were able to enjoy cocktails and hors d'oeuvres while they previewed the first designs produced from the partnership between the two companies in the elegant atmosphere of their new shared showroom at Market Square. A broad selection of full-size rugs were on display, in addition to various designs in sample sizes.

Due Process has developed a widely successful sample rug program which allows dealers, with minimal investment, to carry a large assortment of Due Process rugs and display them utilizing only a minimal area of their showrooms.

Participating retailers gain access to the largest range of in-stock programmed sizes in the market as part of a program which has helped many businesses take their existing rug sales to new levels.

"We are excited to expand our sample offerings to include the Wesley Mancini Rug Collection, " said Michael Massmann, Vice President of National Sales at Due Process, "it will allow us to continue offering the flexibility our clients need and desire along with the fantastic fabric-based designs and patterns being produced under the direction of Wesley Mancini and David Grasse."

Current and future offerings from the Wesley Mancini Rug Collection will include rugsmade of wool, silk, linen, hemp, bamboo, and banana silk. In additional to its sample program, Due Process will continue its practice of maintaining a large quantity of in-stock full-size rugs made available to selected dealers.

Through its large and diverse product line of in-stock full-size rugs, and rug sample program, Due Process Stable Trading Company continues tobe one of the fastest-growing rug manufacturers in the industry.