Milano Unica to have pavilion at Intertextile Beijing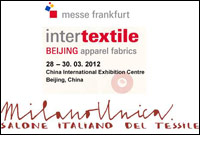 Milano Unica, organiser of the same-named exhibition, and Messe Frankfurt, announced that they will co-operate on joint projects for the benefit of the international apparel fabrics industry.

As a starting project, Milano Unica will launch its "Milano Unica" Pavilion in the premium area "SalonEurope" at Intertextile Beijing in March 2012. The pavilion will present exclusively Italian manufacturers and brands for apparel fabrics and accessories.

"Milano Unica, the Italian Exhibition of Textiles, is held twice in Milan and features top-end Spring/Summer and Fall/Winter collections for womenswear and menswear. Next edition, the 14th, will be held in Milan from 7 to 9 February 2012. "

"Born in 2005 out of the long time experience of four international textile exhibitions it is now the leader worldwide for the luxury market", says Silvio Albini, President of Mi-lano Unica.

"With our enterprise of taking Milano Unica to China, we affirm that our intention is not only the exhibition of our precious fabrics and accessories, but above all the transfer of a unique image, style, culture and elegance that has characterized Milano Unica since the first edition" says Mr Silvio Albini. "

"We are satisfied with this partnership with Messe Frankfurt and are confident that this is just the beginning. I'm sure Italian mills will be represented consistently with their standards of quality, appeal, style, research and service. In fact, Milano Unica will conjugate the Italian lifestyle with business and special services," underlines Mr Albini.

"We are proud to partner with Milano Unica, and are convinced that this strategic alliance will give the industry an enhanced portfolio of efficient platforms for the premium business throughout the world,", comments Detlef Braun, Member of the Executive Board for Messe Frankfurt GmbH. "

"The co-operation starting off at Intertextile Apparel Fabrics in Beijing will enrich the most international trade forum for apparel fabrics and accessories by presenting Italy's most prestig-ious weavers as well as well-known luxury fabric and accessories producers."

Intertextile Apparel Fabrics is an international trade event organised through the Messe Frankfurt subsidiary, Messe Frankfurt Hong Kong Ltd. The trade show offers the international apparel fabrics industry the largest trade exhibitions in the world.

Located in Beijing (28 to 30 March 2012) and Shanghai (22 to 25 October 2012), Intertextile Apparel Fabrics serves as a vibrant ordering and marketing platform for the mid to luxury markets, and attracts relevant buyers from all over the world.

The new "Milano Unica" Pavilion will be co-located within the Sa-lonEurope (halls 2 and 3), which groups exhibitors across European countries at one convenient location. For the 2012 show, the modern layout mixes fashion, culture, food, trends and high quality fabrics and accessories from Europe includingGermany, Italy, France and the UK.