DCI to display handloom denim garments at Tex Trends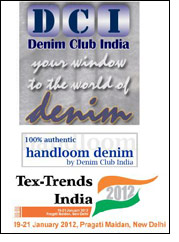 Denim Club India (DCI) is proud to announce that it will be showcasing a range of exclusive Handloom denim garments from 19-21st January, 2012 at the upcoming Tex Trends India Exhibition being held at Pragati Maidan, New Delhi.

On display for the first time will be a complete range of hi-fashion apparel, including shirts, jackets, formal coats, dresses, Jodhpur pants, and many more, all made from handloom denim. These garments have been crafted out of 100% authentic handloom denim and come with the 'Handloom Mark' which authenticates its originality and genuinity. The handloom denim vis-a-vis mill made denim has a very low carbon footprint.

The handloom denim used for these garments has been developed with the help, guidance and technical support made available to Denim Club India by Textiles Committee, Naraina, New Delhi. Textiles Committee extended support for this initiative under the Integrated Handloom Cluster Development Scheme of the office of Development Commissioner - Handlooms, Ministry of Textiles, Govt. of India.

Appreciating the joint initiative by Textiles Committee & DCI for the path-breaking innovation, Shri R. N. Choubey, Development Commissioner - Handlooms, said, "It is nice to know that handloom denim has been successfully developed in the Bijnor cluster. This is a remarkable achievement and a very significant development as it will help in enhancing the value realization of the traditional craftsmen and will open new avenues for them."

Expressing his thoughts about the Handloom Denim Initiative, R. Dudeja, Founder, Denim Club India said "Once in great demand, the handloom sector has fallen on bad days due to a variety of reasons. The Handloom Denim Initiative is an attempt to preserve the skills and ensure livelihood for traditional craftsmen and their families for whom weaving has been the way of life for generations."

"The Handloom Denim Initiative by DCI and Textiles Committee is a step in the direction of sustainable fashion. We are extremely grateful to Sh. Pankaj Malik, Joint Director, Textiles Committee, and Mr. Raman Shivkumar, CDE, Bijnor Cluster, for the continued guidance and support, extended to Denim Club India which helped convert a dream to reality." Dudeja further expressed.

Tex Trends India 2012, organised by Ministry of Textiles, Government of India, is the second edition of exhibition of Indian textiles, following the grand success of first edition of Tex Trends in 2011. The exhibition will include a vivid display of designs in textiles and is expected to be a grand event on Indian textiles witnessing participation from 600 exhibitors.

Well-known fashion designer Samant Chauhan, famous for his passion for ethical and sustainable fashion and experiments with Bhagalpur Silk, has associated with Denim Club India for developing the exclusive range of garments made out of handloom denim.

The entire range of exclusive denim garments will be available for viewing at Textiles Committee stall in Hall 7E, Stall No 15, during the three days of Tex Trends exhibition.