RIL: satisfactory performance in refining & petrochem biz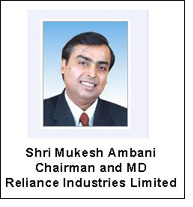 Reliance Industries Limited (RIL) reported its financial performance for the quarter / nine months ended 31st December, 2011.

Highlights of Nine Months Performance
- Turnover increased by 37.4% to ` 251,958 crore ($ 47.5 billion)
- Exports increased by 55.2% to ` 156,753 crore ($ 29.5 billion)
- PBDIT increased by 1.8% to ` 30,952 crore ($ 5.8 billion)
- Profit Before Tax increased by 9.4% to ` 20,319 crore ($ 3.8 billion)
- Cash Profit decreased by 2.9% to ` 24,988 crore ($ 4.7 billion)
- Net Profit increased by 6.0% to ` 15,804 crore ($ 3.0 billion)
- Gross Refining Margin at $ 6.8/bbl for the quarter and $ 9.0/bbl for the nine months ended 31st December 2011

In terms of the arrangement with BP, Reliance Industries (RIL) and BP announced the incorporation of India Gas Solutions Pvt. Ltd., a 50:50 joint venture company which will focus on global sourcing and marketing of natural gas in India. The joint venture company will also develop infrastructure to accelerate transportation and marketing of natural gas within the country. India Gas Solutions Pvt. Ltd. will be funded with equal equity from BP and RIL.

Commenting on the results, Mukesh D. Ambani, Chairman and Managing Director, Reliance Industries Limited said: "The global nature of our businesses and weakness in economic conditions resulted in reduced earnings in the quarter, particularly in our refining and petrochemicals businesses. Notwithstanding these challenges, Reliance has delivered reasonably robust results with high operating leverage. Our focus remains on enhancing shareholder value by leveraging an exceptionally strong balance sheet, operating top decile assets and investing prudently in future growth engines."

PETROCHEMICALS BUSINESS
During the nine month ended 31st December 2011, revenue for the segment increased by 31.7% from ` 44,961 crore to ` 59,213 crore ($ 11.2 billion). Increase in volume accounted for 6.8% growth in revenue and increase of prices accounted for 24.9% growth in revenue. EBIT margins for the nine months ended 31st December 2011 were at 11.5% as compared to 14.9% in the corresponding period of the previous year due to base effect of higher revenues. On a trailing quarter basis, EBIT margins reduced across the olefins chain, the aromatics chain and in certain key chemicals.

On a 9 months basis, production of ethylene increased by 13% to 1.4 million tones while the production of propylene increased by 10% to 578 thousand tonnes. This was due to normalized production during the 9M FY12 period vis-à-vis cracker turnarounds at Hazira, Nagothane and Gandhar manufacturing sites during the corresponding period of the previous year. Polymer (PP, PE and PVC) production increased by 8% to 3.4 million tonnes.

Overall demand for polymer products improved by 3% mainly due to growth in the packaging sector and moulded products. Demand for PVC was higher by 6% mainly due to strong demandfrom the agriculture sector.