Successful seminar on home textiles & apparels by TAI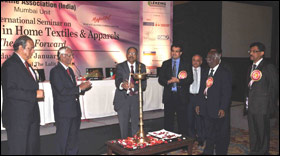 The Textile Association (India), Mumbai Unit organized the International Seminar "Value Addition in Home Textiles & Apparels – The Way Forward" on 20th January 2012 at Hotel InterContinental the Lalit, Mumbai.

Mr. Rajesh Balakrishnan, Vice President, TAI, Mumbai Unit welcomed the Chief Guest, Mr. A. B. Joshi, Textile Commissioner, Ministry of Textiles, Govt. of India, Key Note Speaker Mr. Ajay Arora, Managing Director, D'Décor Home Fabrics Pvt. Ltd., Awardees Mr. Virender Kumar Arora, Mr. R. L. Toshniwal & Mr. Suresh G. Vaidya, Speakers, Press, Media and delegates.

Mr. C. Bose, President, TAI, Mumbai delivered the presidential address and briefed about the activities of TAI, Mumbai Unit.

Mr. V. C. Gupte Chairman, TAI, Mumbai Unit and Convener of the seminar gave the highlights of the event. He said that Home textiles is rather synonym with bed linen, curtains, upholstery and towels only. But it is much more beyond these items. Mr. Gupte further added that in apparel segment, yarn dyeing contributes to over 80%. There are many variables in yarn dyeing. However, if handled correctly, it can do substantial value addition. We have attempted to cover yarn dyeing as much as possible and what steps will do further value addition.

Mr. Gupte expressed the views that value addition in processing can add to the exports, increase industrial production and increase employment and boost the economy. He said that The Textile Association (India), Mumbai Unit has brought together the eminent speakers from the different sectors of processing industry as well as the Government representatives on the same platform. The topics of the seminar shall cover broad spectrum of the consumer needs and what a processor would be eager to know and understand.

Mr. Ajay Arora, Managing Director, D'Décor Home Fabrics Pvt. Ltd. in his Key Note address said that after the abolition of quota system, Home Textiles has got an important opportunity in the growth of the textile industry. The upward trend of Indian Economy and increasing demand for homes has created a strong growth opportunity. He mentioned that the value addition has become imperative for the textile industry due to being highly capital and labour intensive.

Mr. Arora said that the value addition is quite a broad term and it must be redefined. The value addition can be in all fields of business which includes within the factory and outside factory also. In early days, if the raw material costs 'X' and after processing & manufacturing, it is sold for '3X', this was known as value addition. According to him many home textiles products failed to meet this criterion. It is difficult to differentiate yourself in the products, like bed sheets, towels, readymade curtains, etc. These products even fail to meet '2X', leave aside test of '3X'.