New York cotton futures rebound slightly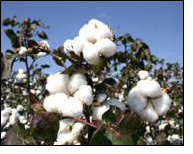 Plexus Cotton Limited reports that NY futures rebounded slightly this week, as March advanced 207 points to close at 92.45 cents, while December gained just 84 points to close at 93.72 cents.

For the past five months, since September 22nd, the March contract has been moving in a relatively narrow trading range of just 1850 points, marked by a high of 102.85 cents and a low of 84.35 cents. New crop December was confined to an even tighter range of just 1474 points, meandering between a high of 97.99 cents and a low of 83.25 cents.

We believe that the market is currently stuck between a set of opposing forces, which keep it from generating any momentum on either side. Acting in support of the market are the restocking purchases by the Chinese Reserve, the relatively strong demand for nearby shipment as mills around the globe are operating with minimal stocks, the comparatively high price of corn and soybean, and the continued debasement of fiat currencies, which has accelerated since December.

On the other side we have an increasingly bearish supply/demand balance sheet that could see global ending stocks rise to their highest level ever, as world cotton production is projected to surpass mill use for a third consecutive season. After a surplus of 1.8 million bales in 2010/11 and a 13.6 million bales surplus in the current season, we are potentially looking to add another 5 or 6 million bales to world ending stocks next season.

Fortunately China has so far been willing and able to lift the extra supply off the world's shoulders, by absorbing an estimated 16-17 million bales of domestic and imported cotton into its strategic reserve. This has been countervailing the bearish impact these surplus bales would otherwise have had on world prices. However, since it is believed that the capacity of the Reserve is in the neighborhood of 18 to 19 million bales, the world cannot continue to rely on China to mitigate an oversupply situation indefinitely.

Since the Chinese government is likely to continue its support program next season, it is possible that some of these Reserve stocks will be sold to domestic mills in the second and third quarter in order to make room for new auction purchases next season. This in turn would reduce import needs during the summer months. China has been a very active importer so far this season, as already 10.1 million bales (2.2 million tons) have arrived on its shores in the first six months of the season (August to January), but this pace will likely slow down during the second half of the season. If Reserve stocks do indeed get released, we probably won't see any additional import quotas beyond the ones already authorized.

US export sales were quite strong last week, as net new sales for the current marketing year totaled 108'000 running bales, not counting net new 'optional origin' sales of 54'000 running bales. New sales for the 2012/13-season amounted to 65'200 running bales.