NY cotton futures decline as negative vibes in yarn market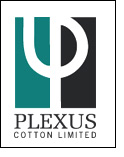 Plexus Cotton Limited reports that NY futures came under heavy pressure this week, as May dropped 448 points to close at 89.23 cents, while December fell 372 points to close at 90.00 cents. A slowdown in nearby business activity due to negative vibes from the yarn market, the threat of another production surplus next season and a deteriorating technical picture were all contributing to the market's decline this week.

The market is still in the process of finding a level at which cotton production gets discouraged and mill use sees a revival. Historically, December at 90 cents has proven to be a strong incentive to plant cotton. With the exception of the meteoric rise we have experienced over the last two seasons, the highest a December contract had ever traded before that was 98.50 cents in the 2009/10-season.

Also, the highest seasonal low for a December contract has never exceeded 73 cents, reminding us that from a historical perspective there is still considerable room to the downside. We mention these markers to calibrate our value perception, because the events of the last two seasons may have distorted our sense of what is considered expensive or cheap.

The market may have relied too heavily on China to keep values supported. Even though China has been absorbing a lot of cotton into its Reserve and has opened the doors for imports this season, the market knows that China will not be able to keep up its support indefinitely.

We believe that once the latest import quotas of about 2 million tons (0.9 million tons TRQ + 1.1 million tons sliding scale duty) have been used up, the door will probably get shut until next season, with any additional needs by Chinese mills being supplied from Reserve stocks.

Today the difference between China's CC index (calculating at about 141 cents) and NY May futures has reached an all-time high of around 52 cents. With this spread stretched to such an extreme, it would make sense for NY futures to bounce back at some point, but as we have learned in the past, this will only happen if China is able to extend its support via additional import demand.

It is difficult to gauge how much of these 2 million tons in quotas is still unused, but China has been quite active in procuring Indian, US, Australian and Brazilian cotton over the past few months, a lot of which has yet to be shipped. In other words, there may not be a lot of import quotas left to fill at this point.

Traders are often scratching their heads as to how Chinese mills are able to cope with an internal price of around 140 cents. One possible explanation is that China needs to be looked at as two separate markets – a domestic market and an export market. Chinese mills use a total of around 44 million bales of cotton this season, according to the USDA.

Of these 44 million bales, Chinese consumers buy an estimated 25 million bales in the form of finished goods at the end-user level. Since Chinese textile companies don't face much competition when it comes to finished goods within China, the comparatively high local cotton price of 140 cents can be passed on to Chinese consumers. On the other hand, the other 19 million bales of textile products that are sent overseas have to be made from cheaper cotton in order to be competitive.